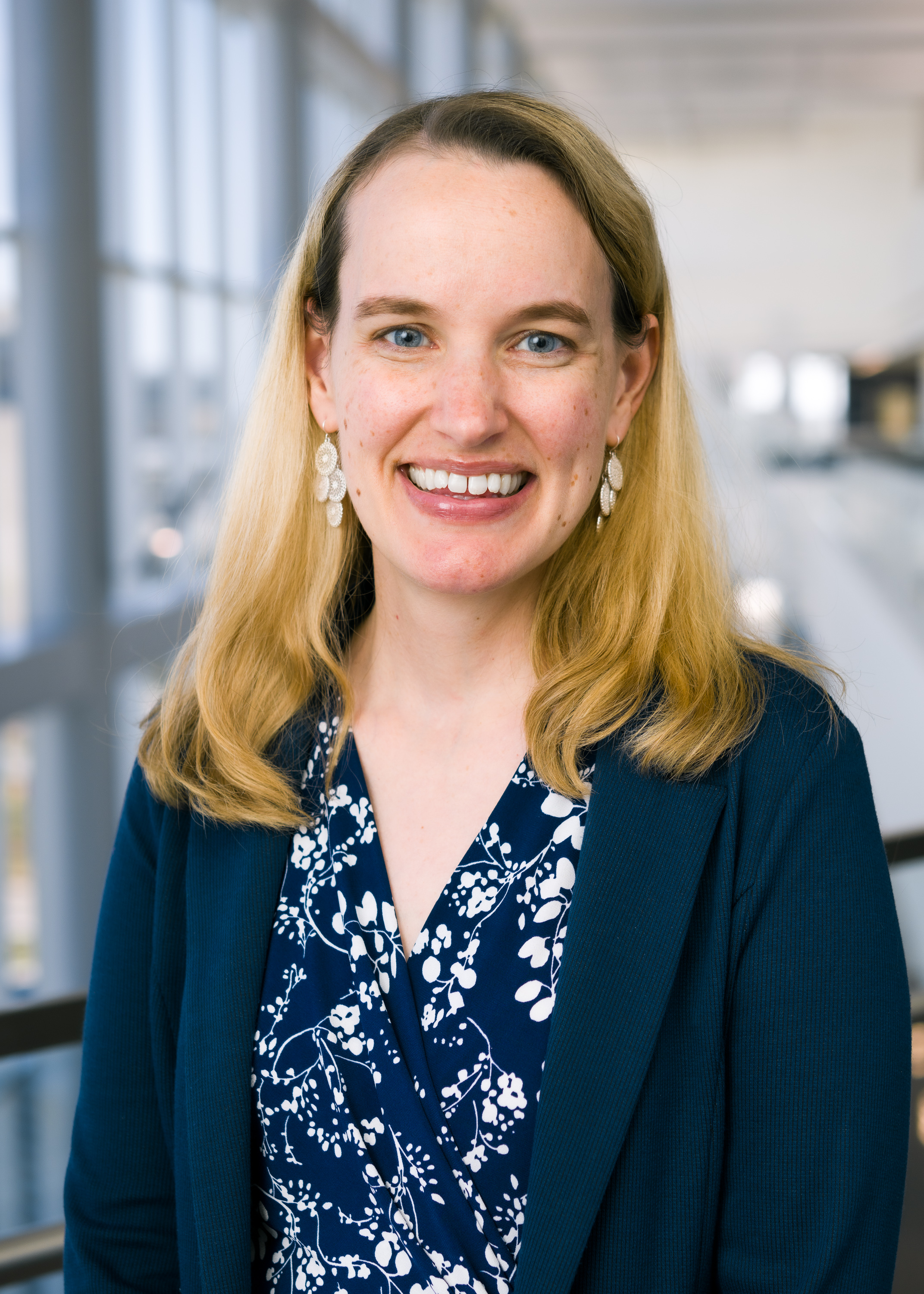 Ariella Hanker

, Ph.D.
Assistant Professor
School Medical School
Department Harold C. Simmons Comprehensive Cancer Center | Internal Medicine
Graduate Programs Cancer Biology, Cell and Molecular Biology
Biography

Dr. Hanker received her B.Sc. in chemistry from the University of Virginia in 2004 and Ph.D. in genetics and molecular biology from the University of North Carolina at Chapel Hill in 2009. Her graduate work in the laboratory of Dr. Channing Der focused on strategies to disrupt membrane binding of the small GTPase Rheb, in an effort to block aberrant Rheb/mTOR signaling in cancer. Dr. Hanker pursued postdoctoral training in the laboratory of Dr. Carlos Arteaga at Vanderbilt University Medical Center. During this time, she was awarded a postdoctoral fellowship from the Department of Defense Breast Cancer Research Program and a career development award (K12 award) from the National Cancer Institute. Her postdoctoral studies used transgenic mouse models and human breast cancer xenografts to study mechanisms of resistance to HER2-targeted therapy in HER2+ breast cancer. More recently, Dr. Hanker identified the HER2 T798I gatekeeper mutation as a mechanism of resistance to HER2-targeted therapy in HER2-mutant breast cancer.

Dr. Hanker's current work is focused on 1) therapeutic targeting of breast cancer-associated alterations, and 2) delineating mechanisms of resistance to breast cancer targeted therapies, including HER2 inhibitors, antiestrogens, PI3K/AKT inhibitors, and CDK4/6 inhibitors.

Dr. Hanker joined the faculty of UT Southwestern Medical Center in 2018. Her research program is supported by grants from the National Cancer Institute and the Breast Cancer Research Foundation.
Education

Undergraduate

University of Virginia - Sfs (2004), Chemistry

Graduate School

University of N C-Chapel Hill (2009)
Research Interest

breast cancer targeted therapy
cancer biology
cancer genomics
drug resistance
PI3K pathway
precision oncology
receptor tyrosine kinases
signal transduction
Publications

Featured Publications

Marin A, Mamun AA, Patel H, Akamatsu H, Ye D, Sudhan DR, Eli L, Marcelain K, Brown BP, Meiler J, Arteaga CL, Hanker AB, Cancer Res 2023 Jul
Hanker AB, Brown BP, Meiler J, Marín A, Jayanthan HS, Ye D, Lin CC, Akamatsu H, Lee KM, Chatterjee S, Sudhan DR, Servetto A, Brewer MR, Koch JP, Sheehan JH, He J, Lalani AS, Arteaga CL, Cancer Cell 2021 Jun
Lee KM, Guerrero-Zotano AL, Servetto A, Sudhan DR, Lin CC, Formisano L, Jansen VM, González-Ericsson P, Sanders ME, Stricker TP, Raj G, Dean KM, Fiolka R, Cantley LC, Hanker AB, Arteaga CL, Nat Commun 2020 10 11 1 5488
Hanker AB, Sudhan DR, Arteaga CL, Cancer Cell 2020 Apr 37 4 496-513
Sudhan DR, Guerrero-Zotano A, Won H, González Ericsson P, Servetto A, Huerta-Rosario M, Ye D, Lee KM, Formisano L, Guo Y, Liu Q, Kinch LN, Red Brewer M, Dugger T, Koch J, Wick MJ, Cutler RE, Lalani AS, Bryce R, Auerbach A, Hanker AB, Arteaga CL, Cancer Cell 2020 Jan
Hanker AB, Kaklamani V, Arteaga CL Cancer Discov 2019 Mar
Hanker AB, Brewer MR, Sheehan JH, Koch JP, Sliwoski GR, Nagy R, Lanman R, Berger MF, Hyman DM, Solit DB, He J, Miller V, Cutler RE, Lalani AS, Cross D, Lovly CM, Meiler J, Arteaga CL Cancer Discov 2017 06 7 6 575-585
Kim BJ, Zheng ZY, Lei JT, Holt MV, Chen A, Peng J, Fandino D, Singh P, Kennedy H, Dou Y, Chica-Parrado MDR, Bikorimana E, Ye D, Wang Y, Hanker AB, Mohamed N, Hilsenbeck SG, Lim B, Asirvatham JR, Sreekumar A, Zhang B, Miles G, Anurag M, Ellis MJ, Chang EC, Cancer Res Commun 2023 Jul 3 7 1366-1377
Liu S, Xie SM, Liu W, Gagea M, Hanker AB, Nguyen N, Singareeka Raghavendra A, Yang-Kolodji G, Chu F, Neelapu SS, Marchese A, Hanash S, Zimmermann J, Arteaga CL, Tripathy D, Breast Cancer Res 2023 Jun 25 1 62
Parida PK, Marquez-Palencia M, Ghosh S, Khandelwal N, Kim K, Nair V, Liu XZ, Vu HS, Zacharias LG, Gonzalez-Ericsson PI, Sanders ME, Mobley BC, McDonald JG, Lemoff A, Peng Y, Lewis C, Vale G, Halberg N, Arteaga CL, Hanker AB, DeBerardinis RJ, Malladi S, Nat Cancer 2023 May
Books

Featured Books

The Roles of Ras Family Small GTPases in Breast Cancer. In Handbook of Cell Signaling 2ed

Hanker AB, Der CJ (2009). Cambridge, MA, Academic Press

Role of R-Ras in Cell Growth. In Handbook of Cell Signaling 2ed

Repasky GA, Cox AD, Hanker AB, Mitin N, Der CJ (2009). Cambridge, MA, Academic Press
Honors & Awards

AACR NextGen Star
(2022)
Breast Cancer Research Foundation Award - Abemaciclib Research Program
(2020-2023)
NIH/NCI SPORE in Breast Cancer Career Enhancement Award
(2016)
AACR-Susan G. Komen Scholar-in-Training Award, San Antonio Breast Cancer Symposium
(2014)
Vanderbilt Clinical Oncology Research Career Development Award (K12)
(2014)
AACR-Aflac, Inc. Scholar-in-Training Award
(2013)
Department of Defense Breast Cancer Research Program Postdoctoral Fellowship Award
(2011)
Department of Defense Breast Cancer Research Program Predoctoral Traineeship Award
(2006)
Highest Distinction, University of Virginia Distinguished Majors Project
(2004)
Professional Associations/Affiliations

American Association for Cancer Research (2009)
Cancer Biology graduate program (2022)
Cell and Molecular Biology graduate program (2022)
Experimental Therapeutics Program, Harold C. Simmons Comprehensive Cancer Center (2019)
Ipatasertib Project Team, National Cancer Institute Cancer Therapy Evaluation Program (NCI CTEP) (2020-2020)