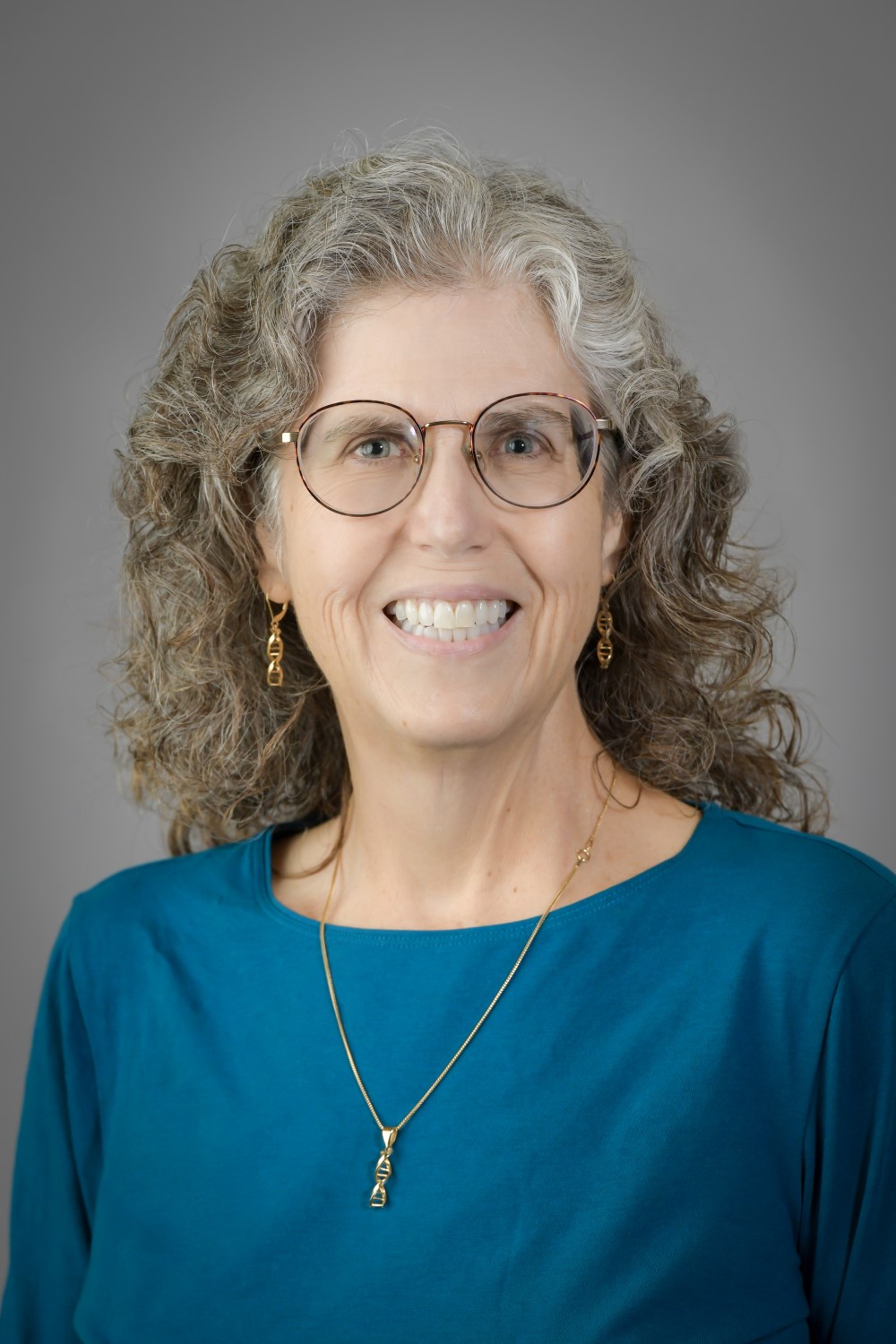 Angela Scheuerle

, M.D.
Professor
Department Pediatrics | Eugene McDermott Center for Human Growth and Development | Pathology
Biography

Dr. Angela Scheuerle fell in love with genetics as a sophomore in high school and never looked back. She now has the career that she wanted at the age of 15 – even though such a profession didn't exist at the time. Learning the intricacies of the science is like learning the secret of a magic trick. Remember the "ah hah!" moment when you suddenly mastered a two-wheeler? Genetics is like that.

Dr. Scheuerle graduated Magna Cum Laude as a biology major from Sewanee: The University of the South. She received her M.D. from The University of South Florida Morsani College of Medicine. Dr. Scheuerle completed a Pediatric Residency at Children's Hospital Medical Center in Cincinnati, Ohio, and Medical Genetics Fellowship at Baylor College of Medicine. Her fellowship started just at the beginning of the Human Genome Project, so she got to "grow up" in genetics at a very exciting time: when it was possible to keep up with gene discoveries because it was about one every two weeks. She has also completed a fellowship in Clinical Ethics at the University of Chicago. Dr. Scheuerle is board certified in Clinical Genetics, Clinical Molecular Genetics, and Pediatrics.

She started shadowing in a craniofacial clinic during high school, where she developed a specific interest in craniofacial malformations. She has practiced Clinical Genetics in Houston and then Dallas since 1995. From 2003 to 2014 she was in private practice at Tesserae Genetics at Medical City Dallas. At that time, she was adjunct faculty at UT Southwestern in the Program of Ethics in Science and Medicine and the Eugene McDermott Center for Human Development since 2000. She joined the Pediatric Division of Genetics and Metabolism as full faculty in September 2014. She holds secondary appointments as Professor in the McDermott Center and in the Department of Pathology, where she is also co-director of the Fellowship in Laboratory Genetics and Genomics.

In addition to clinical practice, Dr. Scheuerle works in public health genetics and drug safety. She has worked with the Texas Department of State Health Services Birth Defects Epidemiology and Surveillance Branch since 1993. This Branch operates the Texas Birth Defect Registry, an active state surveillance system that monitors birth prevalence of congenital anomalies and genetic conditions. This became particularly important in 2016 with the Zika virus epidemic. In July 2016, she attended and participated in a workshop at the Centers for Disease Control and Prevention to define guidelines for evaluation and management of infants and children exposed to Zika virus.

The Birth Defects Epidemiology and Surveillance Branch manages the Texas Center for Birth Defects Research and Prevention (TCBDRP), which performs and supports investigation into causes of birth defects. The TCBDRP participated in the 15-year, 10-state National Birth Defects Prevention Study, and Dr. Scheuerle served as the Geneticist for Texas' contribution to that Study. She continues her involvement with research generated from both the state and national programs.

In 1997, Dr. Scheuerle joined the Antiretroviral Pregnancy Registry (APR). This is an FDA-mandated, post-marketing exposure registry that began in 1989 as the Zidovudine in Pregnancy Registry. This multi-drug registry is one of the largest of its kind, monitoring pregnancy exposure of now over 40 HIV and Hepatitis medications. Dr. Scheuerle's role as teratologist is to identify those cases in which exposure to one or more medications temporally associates with embryopathogenesis of the anomaly. She also serves on the scientific advisory and steering committees for the APR. Her Organ System Classification schema for categorizing birth defects is one of two recommended by the FDA for use in pharmaceutical pregnancy registry work. Dr. Scheuerle now participates in other pregnancy registries and provides similar consultative services to US- and European-based pharmaceutical companies.
Education

Medical School

USF Health Morsani College of Medicine (1988)

Residency

University of Cincinnati/Children's Hospital Medical Center (1991), Pediatrics

Fellowship

Baylor College of Medicine/Texas Children's Hospital (1995), Medical Genetics
Research Interest

Public health genetics and birth defect surveillance
Syndrome definition
Teratogenic risks of prescription medication/drug safety
Publications

Featured Publications

Scheuerle AE, Sweed NT, Timmons CF, Smith ED, Alcaraz WA, Shinde DN Am. J. Med. Genet. A 2018 Dec 176 12 2858-2861
Nguyen TTM, Murakami Y, Wigby KM, Baratang NV, Rousseau J, St-Denis A, Rosenfeld JA, Laniewski SC, Jones J, Iglesias AD, Jones MC, Masser-Frye D, Scheuerle AE, Perry DL, Taft RJ, Le Deist F, Thompson M, Kinoshita T, Campeau PM Am. J. Hum. Genet. 2018 Oct 103 4 602-611
Wooderchak-Donahue WL, Johnson P, McDonald J, Blei F, Berenstein A, Sorscher M, Mayer J, Scheuerle AE, Lewis T, Grimmer JF, Richter GT, Steeves MA, Lin AE, Stevenson DA, Bayrak-Toydemir P Eur. J. Hum. Genet. 2018 Jun
Clowse MEB, Scheuerle AE, Chambers C, Afzali A, Kimball AB, Cush JJ, Cooney M, Shaughnessy L, Vanderkelen M, Förger F Arthritis & rheumatology (Hoboken, N.J.) 2018 Apr
Hoyt AT, Canfield MA, Langlois PH, Waller DK, Agopian AJ, Shumate CJ, Hall NB, Marengo LK, Ethen MK, Scheuerle AE Birth Defects Res 2017 Nov
Townsend JA, Lacour L, Scheuerle AE J Dent Child (Chic) 2017 Jan 84 1 39-43
Scheuerle AE J Craniofac Surg 2017 Jan
Russell K, Oliver SE, Lewis L, Barfield WD, Cragan J, Meaney-Delman D, Staples JE, Fischer M, Peacock G, Oduyebo T, Petersen EE, Zaki S, Moore CA, Rasmussen SA MMWR Morb. Mortal. Wkly. Rep. 2016 Aug 65 33 870-878
Scheuerle AE, Aylsworth AS Birth Defects Res. Part A Clin. Mol. Teratol. 2016 Aug
Mai CT, Isenburg J, Langlois PH, Alverson CJ, Gilboa SM, Rickard R, Canfield MA, Anjohrin SB, Lupo PJ, Jackson DR, Stallings EB, Scheuerle AE, Kirby RS Birth Defects Res. Part A Clin. Mol. Teratol. 2015 Nov 103 11 972-93
Books

Featured Books

Appendix III: Syndromes Glossary. In Cabana MD, ed. The 5-Minute Pediatric Consult. 7th ed.

Scheuerle AE. (2015). Wolters Kluwer; 1027-1033.

Genetics in the Clinic: Clinical, Ethical and Social Implications for Primary Care.

(Ed.) (2001). St. Louis: Mosby

Understanding Genetics: A Guide for Couples and Families.

(Ed.) (2005). Westport, CT: Greenwood Publishing.

Clinical Genetics and Dysmorphology. In Cabana M, ed. Rudolph's Pediatrics Self-Assessment and Board Review. 22nd ed.

Scheuerle A. (2014). San Francisco: McGraw Hill; 220-236.

Review of Embryology and Clinical Genetics. In Advances in Plastic Surgery.

Scheuerle A. (1998).
Honors & Awards

Texas Super Doctor
Texas Monthly (2018)
Best Pediatric Specialists/Doctors in Dallas
D Magazine (2010-2018)
Distinguished Service Award
National Birth Defect Prevention Network (2010)
First place poster award
National Birth Defect Prevention Network (2009)
Phi Beta Kappa
(1994)
Professional Associations/Affiliations

AAP - Section Executive Committee (2013-2015)
AAP - ListServ Working Group (2011)
North Texas Bioethics Network (2005)
Pediatric Society of Greater Dallas (2004)
Bioethics Committee, Medical City Dallas Hospital (2003-2014)
National Birth Defects Prevention Network (1998)
Houston Bioethics Network (1997-1998)
AAP - Council on Genetics (1995-2019)
American College of Medical Genetics and Genomics (1995)
American Society of Human Genetics (1990)
American Academy of Pediatrics (AAP) (1988)