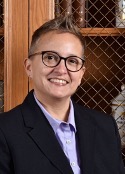 Kelly Gonzalez

, M.S.
Assist VP for Library Services
Faculty Associate
Department Library
Biography

Kelly Gonzalez currently serves as Assistant Vice President for Library Services for the Health Sciences Digital Library and Learning Center. She has a Master of Science in Information Science (MSIS) degree from the University of North Texas and an Master of Business Administration (MBA) in Health Care Management from Saint Leo University. Kelly is also a Distinguished Member of the Academy of Health Information Professionals and a Fellow of the Frye Leadership program and a Fellow of the National Library of Medicine/Association of Academic Health Sciences Libraries. She has a distinguished career as an educator for the Medical Library Association's Rising Stars program as well as adjunct faculty for the University of North Texas, the UT Southwestern Medical Center in Dallas, and the National Network of Libraries of Medicine.

In her current role she is responsible for providing overall leadership, direction and guidance to the Library. She is responsible in particular for budget, personnel and planning for the Library. In addition, works with the Library staff to plan and coordinate all assessment activities, including surveys and statistics and works with the Assistant Director to develop the Library's strategic planning process and objectives.
Education

Undergraduate

Texas A&M University (1991), English

Graduate School

University of North Texas (1992), Information Systems

Graduate School

Saint Leo University (2013), Healthcare Management
Research Interest

Assessment and Evaluation
Data Management
Database Development
Digital Libraries
Medical Informatics
Online Instruction
Project Management
Strategic Planning
Publications

Featured Publications

Gonzalez, Kelly J Hosp Librariansh 2016 16 3 250-254

Reach Out! : A Social Community Web Site Evaluated by SPAT and DISCERN

LaRue, Elizabeth M., Mitchell, Ann M., Gonzalez, Kelly R. Journal of Consumer Health on the Internet 2009 13 77-89
Professional Associations/Affiliations

AAHSL Teaching & Learning Committee (2015-2017)
Academy of Health Information Professionals, Distinguished Member (2012-2016)
Academy of Health Information Professionals, Senior Member (2007-2011)
American Library Association (2011-2017)
Association of College and Research Libraries (2011-2017)
HealthLINE (2005-2017)
HealthLINE Communications Committee (2005-2008)
Library and Information Technology Association (2011-2017)
Library Leadership and Management Association (2011-2001)
Medical Library Association (1993-2017)
South Central Chapter of the Medical Library Association (1993-2017)
Texas Library Association (2011-2017)