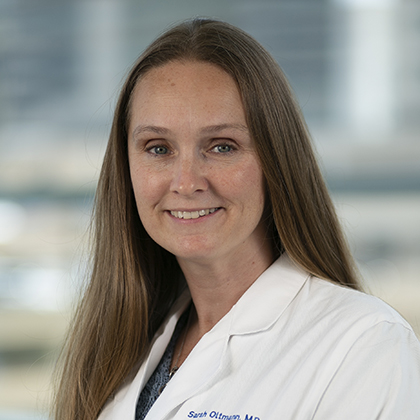 Sarah Oltmann

, M.D.
Associate Professor
Endowed Title Dedman Family Scholar in Clinical Care
School Medical School
Department Surgery
Biography

Sarah Oltmann, M.D., is an endocrine surgeon who uses minimally invasive techniques to treat disorders of the thyroid, parathyroid, and adrenal glands.

Dr. Oltmann's clinical research interests include the kinetics of intraoperative parathyroid hormone monitoring, expansion of surgical indications in thyroiditis, surgical management of hyperthyroidism, improving patient experience after thyroid and parathyroid procedures, and surgeon decision-making regarding surgical approach to adrenal lesions.

After receiving her B.A. in biology at Baylor University and her M.D. at Texas Tech University, Dr. Oltmann trained as a general surgery resident at UT Southwestern, where she also completed a research fellowship in the Division of Pulmonary Vascular Biology in the Department of Pediatrics. She then received advanced training in endocrine surgery through a fellowship at the University of Wisconsin.

Following her fellowship training, Dr. Oltmann joined the faculty of the University of Wisconsin as a clinical instructor. She returned to Dallas in 2014 to join the UT Southwestern faculty.

Among Dr. Oltmann's many professional activities, she is a member of the Society of Surgical Oncology, the American Thyroid Association, and the American Association of Endocrine Surgeons. She is an ad hoc reviewer for the Journal of Surgical Research, Annals of Surgical Oncology, and the Annals of Surgery, among other prestigious journals.

In 2019, Dr. Oltmann was named a Texas Monthly Super Doctor Rising Star.
Education

Medical School

Texas Tech University School of Medicine (2004)

Research Fellowship

UT Southwestern Medical Center (2009), Pulmonary Research

Residency

UT Southwestern Medical Center (2011), General Surgery

Fellowship

University of Wisconsin (2014), Endocrine Surgery