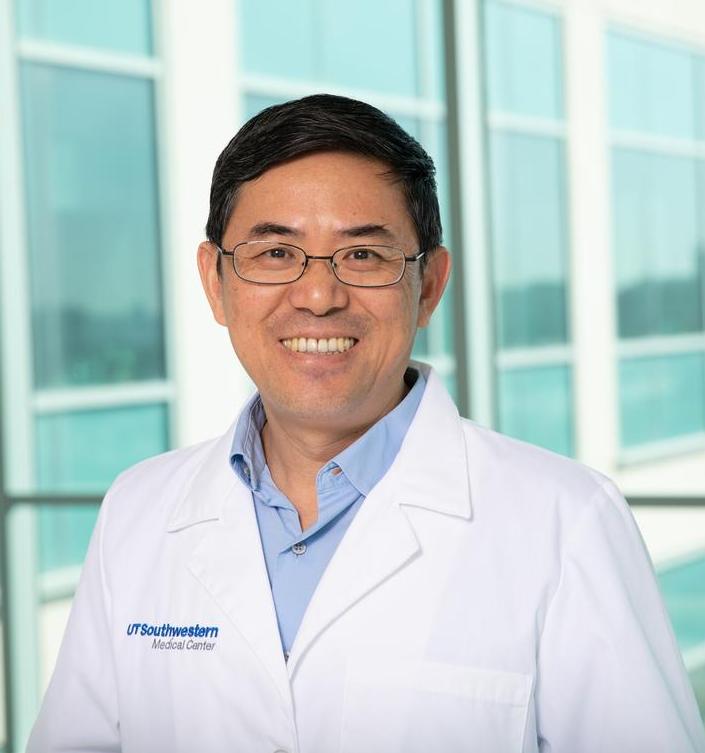 Weichun Lin

, Ph.D.
Professor
Endowed Title Effie Marie Cain Scholar in Medical Research
School Medical School
Department Neuroscience
Graduate Programs Neuroscience
Biography

1985 Xiamen University, Xiamen, China, BS, Biology

1996 State University of New York, Albany, NY, PhD, Neuroscience

2003 The Salk Institute, La Jolla, CA, Research Associate
Education

Undergraduate

Xiamen University - China , Biology

Graduate School

SUNY at Albany (1996)
Research Interest

Electrophysiology
Molecular Biology
Neurodegeneration
Synapse formation, function, maintenance and degeneration
Publications

Featured Publications

Neuromuscular synaptic patterning requires the function of skeletal muscle dihydropyridine receptors.

Fujun Chen, Yun Liu, Yoshie Sugiura, Paul D. Allen, Ronald G. Gregg and Weichun Lin Nature Neuroscience March 2011

Ubiquitin carboxyl-terminal hydrolase L1 is required for maintaining the structure and function of the neuromuscular junction.

Fujun Chen, Yoshie Sugiura, Kalisa Galina Myers, Yun Liu, and Weichun Lin Proceedings of the National Academy of Sciences, U.S.A January 2010 107 1636-1641

Essential roles of acetylcholine receptor gamma-subunit in neuromuscular synaptic patterning

Yun Liu, Daniel Padgett, Masazumi Takahashi, Hongqiao Li, Ayaz Sayeed, Russell W. Teichert, Baldomero M. Olivera, Joseph McArdle, William N. Green, and Weichun Lin Development June 2008 135 1957-1967

Neurotransmitter acetylcholine negatively regulates neuromuscular synapse formation by a Cdk5-dependent mechanism.

Weichun Lin, Bertha Dominguez, Jiefei Yang, Prafulla Aryal, Eugene P. Brandon, Fred H. Gage and Kuo-Fen Lee Neuron 2005 46 569-579

Distinct roles of nerve and muscle in postsynaptic differentiation of the neuromuscular synapse.

Weichun Lin, Robert Burgess, Bertha Dominguez, Samuel Pfaff, Joshua Sanes and Kuo-Fen Lee Nature March 2001 410 1057-1064

Maturation of neurites in mixed cultures of spinal cord neurons and muscle cells from Xenopus laevis embryos followed with antibodies to neurofilament proteins.

Lin W, Szaro BG, J Neurobiol 1994 Oct 25 10 1235-48
Schmidt JT, Schmidt R, Lin WC, Jian XY, Stuermer CA, J Neurobiol 1991 Jan 22 1 40-54
Wang C, Wang B, Pandey T, Long Y, Zhang J, Oh F, Sima J, Guo R, Liu Y, Zhang C, Mukherjee S, Bassik M, Lin W, Deng H, Vale G, McDonald JG, Shen K, Ma DK, Nat Commun 2022 Nov 13 1 6805

Structural and functional alterations of neuromuscular synapses in a mouse model of ACTA1 congenital myopathy

Yun Liu and Weichun Lin bioRxiv 2022
Yun Liu and Weichun Lin bioRxiv 2022
Books

Featured Books

Electrophysiological characterization of neuromuscular synaptic dysfunction in mice. In Methods in Molecular Biology

Yoshie Sugiura, Fujun Chen, Yun Liu and Weichun Lin (2011).
Honors & Awards

Mallinckrodt Scholar
Edward Mallinckrodt, Jr. Foundation (2006)
Effie Marie Cain Scholar in Medical Research
U.T. Southwestern Endowed Scholar Award, 2003-2007 (2003)
Postdoctoral Fellowship
Le Ducq Foundation (2000)