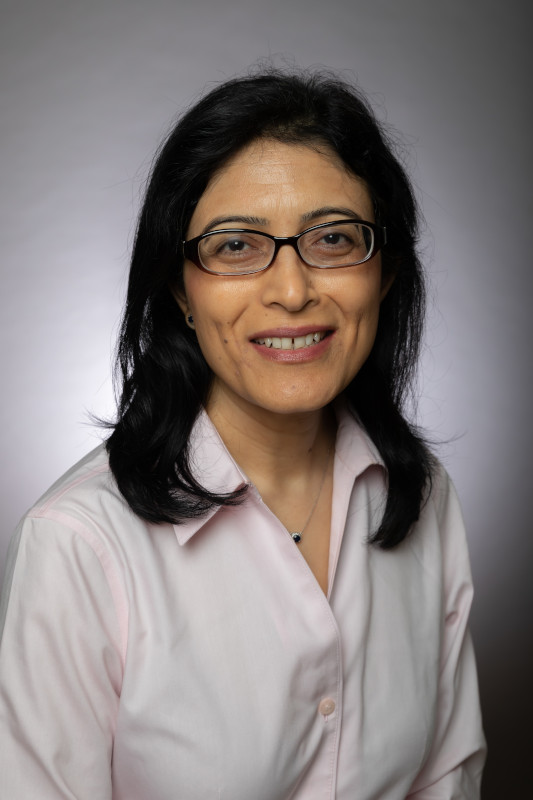 Jyoti Balani

, M.D.
Associate Professor
School Medical School
Department Pathology
Biography

Dr. Balani graduated from Bangalore Medical College, India, did her Pathology (AP/CP) residency and Surgical Pathology fellowship at UT Southwestern and Genitourinary Pathology fellowship at University of Pittsburgh Medical Center. She has been a faculty here since 2009. She is board certified in Pathology (Anatomic & Clinical) and Clinical Informatics.

Dr. Balani is the Quality Officer for Department of Pathology, Co-Director of Laboratory Informatics and Associate Medical Director of UTSW Clinical Laboratory Services. She serves on multiple departmental and institutional quality, safety and informatics committees, working collaboratively with folks across departments. She is a member of the College of American pathologists (CAP) Pathology Electronic Reporting (PERT) Committee. Dr. Balani's clinical interests are in Gastrointestinal and Genitourinary Pathology.
Education

Medical School

Bangalore Medical College, India (1996)

Residency

Wayne State University (2001), Pathology

Internship

UT Southwestern Medical Center (2002), Pathology

Residency

UT Southwestern Medical Center (2005), Pathology

Fellowship

University of Pittsburgh Medical Center (2006), Pathology
Research Interest

Castrate resistant Prostate Cancer
Publications

Featured Publications

Torous VF, Simpson RW, Balani JP, Baras AS, Berman MA, Birdsong GG, Giannico GA, Paner GP, Pettus JR, Sessions Z, Sirintrapun SJ, Srigley JR, Spencer S, JCO Clin Cancer Inform 2021 Jan 5 47-55
Torous VF, Allan RW, Balani J, Baskovich B, Birdsong GG, Dellers E, Dryden M, Edgerton ME, Giannico GA, Heayn M, Jackson CR, Klepeis VE, Olson JE, Pettus JR, Simpson RW, Sirintrapun SJ, Smith DL, Srigley JR, Berman MA, Arch Pathol Lab Med 2020 Nov
Phipps WS, SoRelle JA, Li QZ, Mahimainathan L, Araj E, Markantonis J, Lacelle C, Balani J, Parikh H, Solow EB, Karp DR, Sarode R, Muthukumar A, Am. J. Clin. Pathol. 2020 Jul
McDonald S, Courtney DM, Clark AE, Muthukumar A, Lee F, Balani J, Mahimainathan L, Bararia A, Oliver D, Sarode R, Diercks D, Acad Emerg Med 2020 Jun
Sukumar JS, Sukumar S, Purohit D, Welch BJ, Balani J, Yan S, Hathiramani SS, J Med Case Rep 2019 Dec 13 1 385
Frame IJ, Joshi PH, Mwangi C, Gunsolus I, De Lemos JA, Das SR, Sarode R, Balani J, Apple FS, Muthukumar A Am. J. Clin. Pathol. 2019 Feb
Lama DJ, Safiullah S, Patel RM, Lee TK, Balani JP, Zhang L, Okhunov Z, Margulis V, Savage SJ, Uchio E, Landman J Urology 2018 Apr
Yan SX, Adair CF, Balani J, Mansour JC, Gokaslan ST Am. J. Clin. Pathol. 2015 Feb 143 2 283-7
Monzon FA, Hagenkord JM, Lyons-Weiler MA, Balani JP, Parwani AV, Sciulli CM, Li J, Chandran UR, Bastacky SI, Dhir R Mod. Pathol. 2008 May 21 5 599-608
Mohanty SK, Balani JP, Parwani AV Urology 2007 Oct 70 4 812.e7-10
Professional Associations/Affiliations

Associate Medical Director, Clinical Laboratory Services (2015)
Associate Professor, Pathology (2016)
Co-Director Lab informatics (2012)
Quality Officer, Department of Pathology (2012)