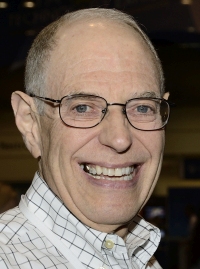 Michael Gottlieb

, Ph.D.
Professor
Department Psychiatry
Graduate Programs Clinical Psychology
Biography

Dr. Gottlieb practices forensic and family psychology in Dallas, Texas. He is Board Certified in Family Psychology [ABPP] and is a Fellow of the American Psychology/Law Society as well as four other divisions of the American Psychological Association. He is a Clinical Professor at The University of Texas Southwestern Medical Center, where he teaches professional ethics, and an Honorary Clinical Professor at Texas Woman's University. He is a Past-President of the Dallas and Texas Psychological Associations, The American Board of Family Psychology and The Academy of Family Psychology. Also, he completed terms on the American Psychological Association's: Ethics Committee; Committee on Professional Practice and Standards; and Council of Representatives (two terms). Presently, he is a member of the Ethics Committee of the American Board of Professional Psychology. An active scholar, Dr. Gottlieb writes on applied ethics and the psychology/law interface. He has written or co-written forty peer reviewed articles and book chapters, presented over eighty original papers, offered more than 100 professional workshops locally, nationally and internationally and has received over thirty awards for his professional accomplishments and service. He was the Editor of Family Law Psychology Briefs, and serves on the Editorial Board of eight scholarly journals. He has testified or consulted in fifteen states, four federal jurisdictions, and consults regarding forensic psychology issues to a variety of individuals and institutions including the Texas State Board of Examiners of Psychologists. Recently, he has made presentations to The Family Law Section of the American Bar Association, The State Bar of California, the National Judicial Institute of Canada, and two ABA/APA National Conferences on Children and the Law. He was recently appointed to the working group on Ethics and Standards of the joint APA/ABA Collaboration on Children, Families, Divorce, and Custody.
Education

Undergraduate

Univ of Illinois @ Urbana-Cham (1964), Psychology

Graduate School

Depaul University (1966), Clinical Psychology

Graduate School

Texas Tech University (1972), Counseling Psychology
Research Interest

Boundary Issues
Ethical Decision Making
Multiple Relations
Publications

Featured Publications

Objects in the mirror are closer than they appear: A primary prevention approach to ethical decision making.

Crowley, J. & Gottlieb, M.C. PPRP 2012 43 65-72

Improving ethical practice of telemedicine-based neuropsychological assessment: Proposed Practice Guidelines.

Grosch, M., Gottlieb, M.C., and Cullum, C. M. TCN 2011 25 1119-1133

Non-rational processes in ethical decision making

Rogerson, M.D., Gottlieb, M.C., Handelsman, M.M., Knapp, S. & Younggren, J.N. AP 2011 66 614-623

Multiple Relations in Supervsion: Guidance for administrators, supervisors and students

Gottlieb, M. Robinson, K., & Younggren, J. Professional Psychology: Research and Practice Summer 2007 33 241-247
Books

Featured Books

APA Handbook of Ethics in Psychology

Knapp, S., Gottlieb, M.C., Handelsman, M.M., VandeCreek, L. (Eds.) (Ed.) (2011). Washington, DC, American Psychological Association
Honors & Awards

Outstandling Lifetime Contribution Award
American Board of Professional Psychology (2004)
Distinguished Lifetime Achievement Award
Texas Psychological Association (2003)
Distinguished Practitioner - Medallion Member
National Academies of Practice (2000)
Fellow
American Psychology/Law Society (2000)
Distinguished Psychologist
Academy of Family Psychology (1996)
Professional Associations/Affiliations

American Bar Association-Associate
American Psychological Association
Association of Family and Conciliation Courts
National Academies of Practice