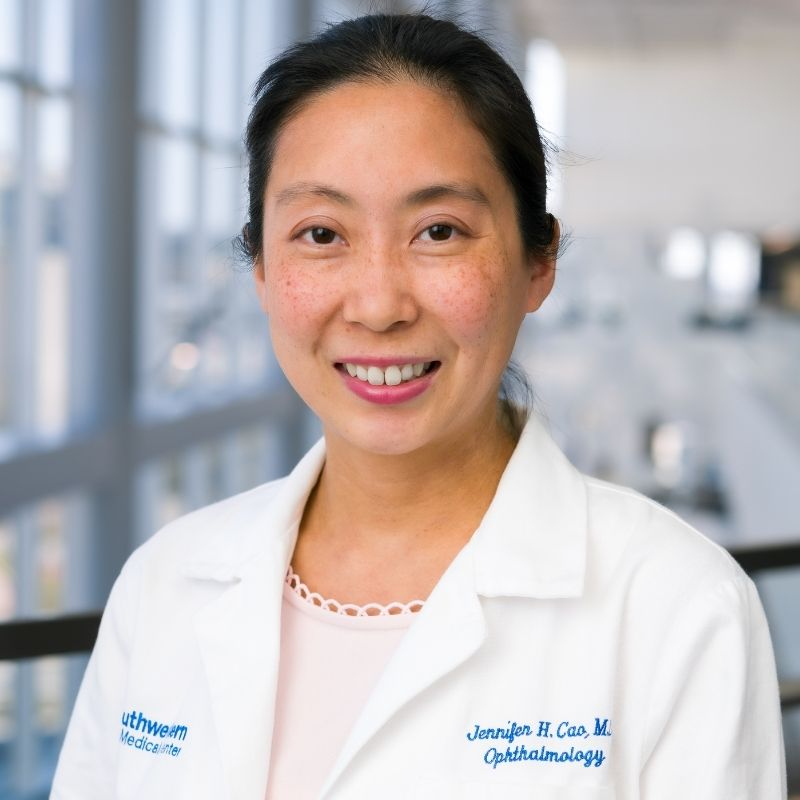 Jennifer Cao

, M.D.
Assistant Professor
School Medical School
Department Ophthalmology
Biography

Jennifer Cao, M.D., is an Assistant Professor in the Department of Ophthalmology at UT Southwestern Medical Center. She specializes in pediatric uveitis and ocular immunologic diseases.

Dr. Cao earned her medical degree at Baylor College of Medicine. She completed a residency in ophthalmology at the University of Colorado Anschutz Medical Center and gained advanced training in uveitis and ocular immunology through a fellowship at the Massachusetts Eye Research and Surgery Institution (MERSI), where she served as Co-Chief Fellow.

Certified by the American Board of Ophthalmology, Dr. Cao joined the UT Southwestern faculty in 2015.

She is a member of the American Academy of Ophthalmology, the American Uveitis Society, and the Dallas Academy of Ophthalmology.

Dr. Cao has lectured widely and published numerous original research articles, monographs, and case reports related to her areas of expertise. Her recent publications include "Successful Treatment With Infliximab After Adalimumab Failure in Pediatric Noninfectious Uveitis" in the Journal of the American Association for Pediatric Ophthalmology and Strabismus.
Education

Medical School

Baylor College of Medicine (2010)

Internship

Carolinas Medical Center (2011), Internal Medicine

Residency

University of Colorado Denver (2014), Ophthalmology

Fellowship

Massachusetts Eye Research & Surgery Institution (2015), Uveitis & Ocular Inflammatory Disease
Publications

Featured Publications

Abraham A, Saboo US, Ducca BL, Lawand AT, Ronconi C, Cao JH, Ophthalmol Retina 2020 02 4 2 198-203
Ashkenazy N, Saboo US, Robertson ZM, Cao J, J AAPOS 2019 12 23 6 334.e1-334.e6
Ashkenazy N, Saboo US, Abraham A, Ronconi C, Cao JH, J AAPOS 2019 Jun 23 3 151.e1-151.e5
Patel SB, Reddy N, Hogan RN, Cao JH J Pediatr Ophthalmol Strabismus 2017 Jun 54 e37-e41
Matei VM, Cao JH, Foster CS JAMA Ophthalmol 2016 Sep
Silpa-Archa S, Cao JH, Boonsopon S, Lee J, Preble JM, Foster CS Ocul. Immunol. Inflamm. 2016 Apr 1-7
Maleki A, Cao JH, Silpa-Archa S, Foster CS Retina (Philadelphia, Pa.) 2016 Mar
Cao JH, Silpa-Archa S, Freitas-Neto CA, Foster CS Retina (Philadelphia, Pa.) 2016 Mar
Cao JH, Oray M, Cocho L, Stephen Foster C Am. J. Ophthalmol. 2016 Jan
Freitas-Neto CA, Cao JH, Oréfice JL, Costa RA, Oréfice F, Lee J, Payal A, Foster CS Ophthalmology 2015 Aug