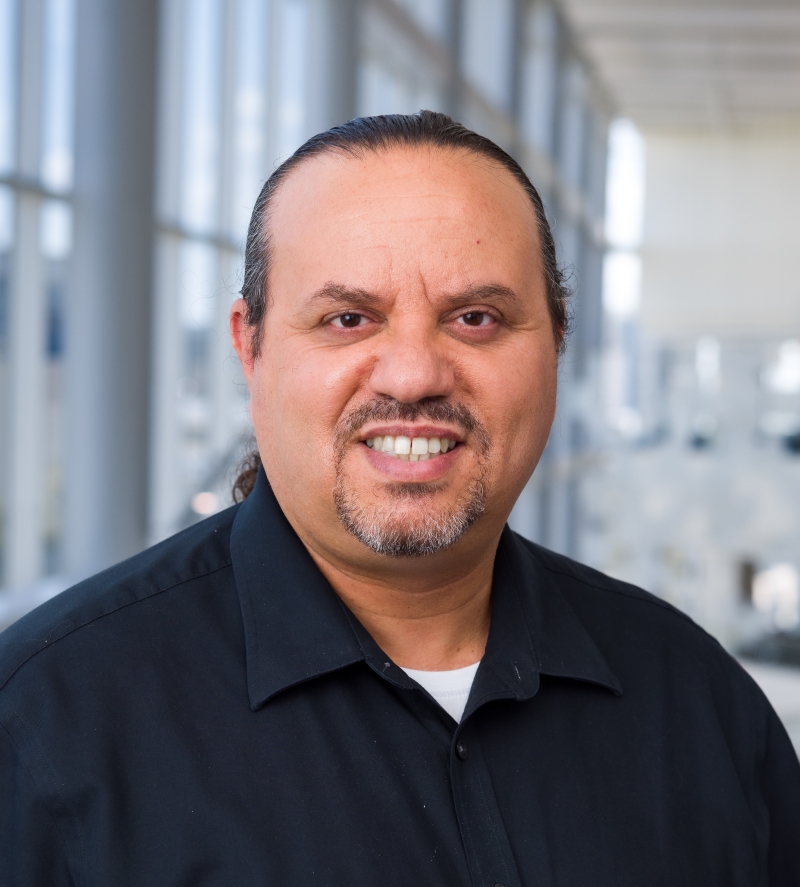 Abd El Kareem Azab

, Ph.D.
Associate Professor
School Medical School
Department Biomedical Engineering
Graduate Programs Cancer Biology
Biography

Dr. Kareem Azab, PhD, is an Associate Professor of Biomedical Engineering, Rising Star CPRIT Scholar of Cancer Research, and a Senior Member of The National Academy of Inventors. Dr. Azab is also a founder of four spinoff startup companies: Cellatrix LLC, Targeted Therapeutics LLC, OncInsights LLC, and  CovACE Nanotechnology LLC.

Dr. Azab completed his Pharmacy studies, M.Sc. (in Medicinal Chemistry), and Ph.D. (in Pharmaceutical Sciences) at the Hebrew University of Jerusalem, and a post-doctoral training (in Cancer Biology and Immunology) at Dana-Farber Cancer Institute, Harvard University.

The research in Dr. Azab's multidisciplinary (including biomedical engineering, cancer biology and immunology, pharmaceutical sciences, and medicinal chemistry), aiming to translate the laboratory findings into patient care through clinical trials and entrepreneurial approaches. Specifically, it focuses on development of novel cancer therapeutics, mainly through discovery of cancer-specific biomarkers and mechanisms which involve the effect of tumor microenvironment (TME) in drug resistance and metastasis, as well as development of novel solutions for cancer immunotherapy, tissue engineered cancer models ex vivo for drug development and personalized medicine, and an array of drug delivery systems including lipid and polymeric nanoparticles for systemic delivery, and drug eluting biodegradable implants for local therapy, for improved efficacy and reduced toxicity of cancer therapy.

Dr. Azab's current and future research focuses on development of novel pan-cancer immunotherapeutic strategies, over-coming TME-induced drug resistance, nanoparticles for cancer theranostics, biodegradable drug eluting implants for localized tumor control, and tissue engineered ex-vivo models for personalized cancer therapy.
Research Interest

3D Tissue Cultures
Biodegradable Implants
BNCT
Drug Delivery Systems
Drug Development
Drug Resistance
Immunotherapy
Multiple Myeloma
Nanoparticles
Personalized Medicine
Tissue Engineering
Tumor Hypoxia
Tumor Metastasis
Tumor Microenvironment
Publications

Featured Publications

Alhallak K, Jeske A, de la Puente P, Sun J, Fiala M, Azab F, Muz B, Sahin I, Vij R, DiPersio JF, Azab AK, Sci Rep 2021 09 11 1 19343
Alhallak K, Sun J, Wasden K, Guenthner N, O'Neal J, Muz B, King J, Kohnen D, Vij R, Achilefu S, DiPersio JF, Azab AK, Leukemia 2021 08 35 8 2346-2357
Federico C, Alhallak K, Sun J, Duncan K, Azab F, Sudlow GP, de la Puente P, Muz B, Kapoor V, Zhang L, Yuan F, Markovic M, Kotsybar J, Wasden K, Guenthner N, Gurley S, King J, Kohnen D, Salama NN, Thotala D, Hallahan DE, Vij R, DiPersio JF, Achilefu S, Azab AK, Nat Commun 2020 11 11 1 6037
Sun J, Muz B, Alhallak K, Markovic M, Gurley S, Wang Z, Guenthner N, Wasden K, Fiala M, King J, Kohnen D, Salama NN, Vij R, Azab AK, Cancers (Basel) 2020 Jan 12 2
Luderer MJ, Muz B, Alhallak K, Sun J, Wasden K, Guenthner N, de la Puente P, Federico C, Azab AK, Pharm Res 2019 Aug 36 10 144
de la Puente P, Luderer MJ, Federico C, Jin A, Gilson RC, Egbulefu C, Alhallak K, Shah S, Muz B, Sun J, King J, Kohnen D, Salama NN, Achilefu S, Vij R, Azab AK, J Control Release 2018 01 270 158-176
Luderer MJ, Muz B, de la Puente P, Chavalmane S, Kapoor V, Marcelo R, Biswas P, Thotala D, Rogers B, Azab AK, Pharm Res 2016 10 33 10 2530-9
de la Puente P, Muz B, Gilson RC, Azab F, Luderer M, King J, Achilefu S, Vij R, Azab AK, Biomaterials 2015 Dec 73 70-84
Muz B, de la Puente P, Azab F, Azab AK, Hypoxia (Auckl) 2015 3 83-92
Muz B, de la Puente P, Azab F, Luderer M, Azab AK, Blood Cancer J 2014 Dec 4 e262
Books

Featured Books

Biomaterials for Cancer Immunotherapy. In Biomaterials for cancer therapeutics: Evolution and Innovation

Alhallak K, Sun J, Muz B, and Azab AK (2020). Amsterdam, Elsevier

Boron neutron capture therapy. In Contemporary Aspects of Boron: Chemistry and Biological Applications

Azab AK, Abu Ali H and Srebnik M (2005). Amsterdam, Elsevier
Honors & Awards

National Academy of Inventors
Senior Member (2023-2023)
CPRIT Rising Star Award
Cancer Prevention and Research Institute of Texas, Dallas, TX (2022-2027)
WashU Inventor Award Office of Technology Management, Washington University in St. Louis
Office of Technology Management, Washington University in St. Louis (2020-2020)
WashU Inventor Award
Office of Technology Management, Washington University in St. Louis (2019-2019)
LEAP Leadership in Entrepreneurial Acceleration Program
Skandalaris Center, Washington University in Saint Louis. (2017-2017)
WashU Inventor Award
Office of Technology Management, Washington University in St. Louis (2017-2017)
Bear Cub Competition for Innovation and Entrepreneurship
Skandalaris Center, Washington University in Saint Louis. (2016-2016)
i6 Spark
Biogenerator-BioSTL, Saint Louis, MO. (2016-2016)
Bear Cub Competition for Innovation and Entrepreneurship
Skandalaris Center, Washington University in Saint Louis. (2015-2015)
Abstract Achievement Award
Annual Meeting of the American Society of Hematology, San Diego, California, USA. (2011-2011)
AACR-Amgen, Inc. Fellowship in Clinical/Translational Cancer Research
American Association of Cancer Research, Washington DC, USA. (2010-2010)
Young Investigator Award
6th International Workshop on Waldenstrom's Macroglobulinemia, Venice, Italy (2010-2010)
Merit Award
American Society of Clinical Oncology Annual Meeting, Orlando, Florida, USA (2009-2009)
Travel Award
Annual Meeting of the American Society of Hematology, San Diego, California, USA. (2009-2009)
Fellow Award
Multiple Myeloma Research Foundation, Norwalk, Connecticut, USA. (2008-2009)
Travel Award
Annual Meeting of the American Society of Hematology, San Diego, California, USA. (2008-2008)
Excellent Research Student
School of Pharmacy, The Hebrew University of Jerusalem, Israel. (2006-2006)
First Place Poster Award
Gordon Research Conference on Drug Carriers in Medicine and Biology, Big Sky, Montana, USA. (2006-2006)
Participant
The 18th Meeting of Nobel Prize Laureates in Chemistry Lindau, Lake Constance, Germany. (2006-2006)
Abraham and Ada Barzilai Award for Outstanding Work Proposal in Cancer Research
The Israeli Ministry of Justice & The Hebrew University of Jerusalem, Israel. (2001-2001)
Outstanding Teaching Assistant
School of Pharmacy, The Hebrew University of Jerusalem, Israel. (2001-2005)
Professional Associations/Affiliations

American Association of Cancer Research (2010)
American Association of Pharmaceutical Sciences (2012)
American Chemical Society (2015)
American Society for Radiation Oncology (2015)
American Society of Clinical Oncology (2009)
American Society of Hematology, Member (2007)
Biomedical Engineering Society (2022)
Controlled Release Society, Member (2005)
International Myeloma Society (2006)
Radiation Research Society (2015)