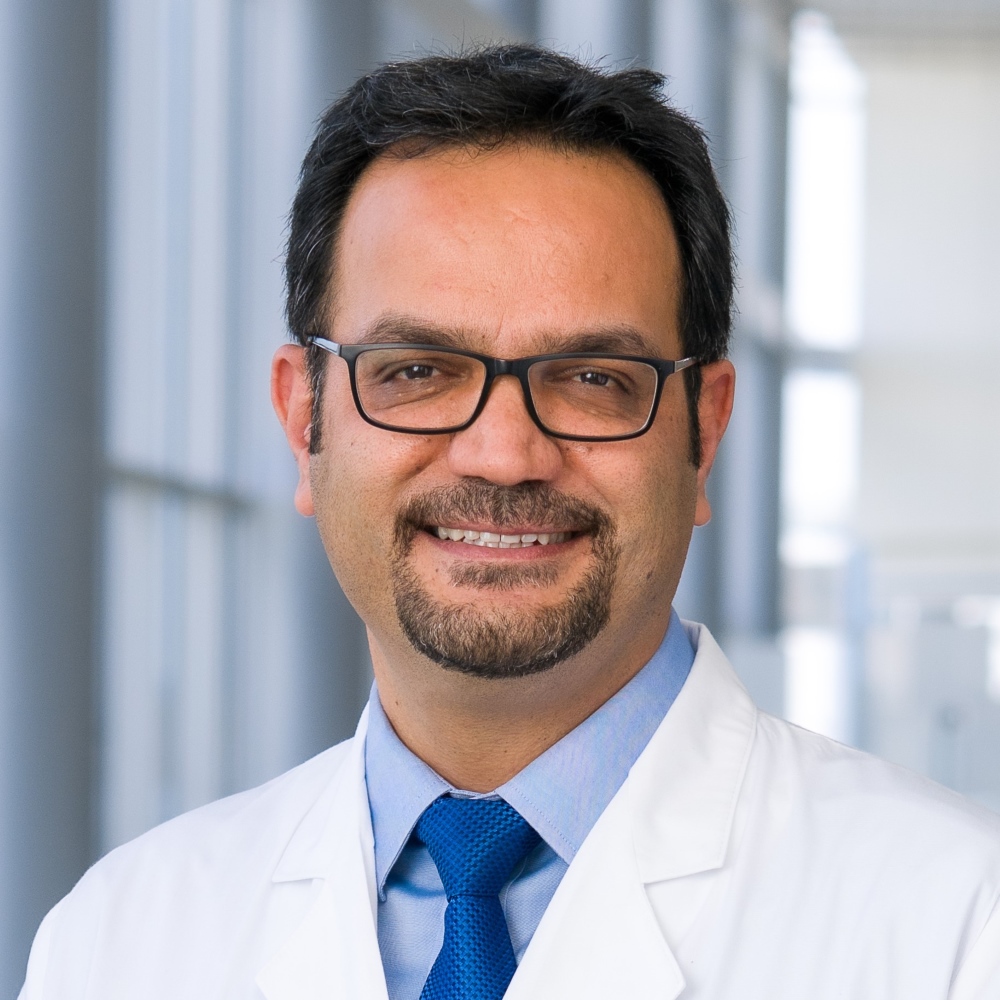 Alireza Eajazi

, M.D.
Assistant Professor
School Medical School
Department Radiology
Biography

Alireza Eajazi, M.D. is an Assistant Professor of Radiology at UT Southwestern Medical Center and a member of its Musculoskeletal Division. Dr. Eajazi earned his medical degree from Tehran University of Medical Sciences in Iran. After gaining valuable research and surgical experience in orthopedic surgery, he pursued research fellowships in Musculoskeletal Imaging at Boston University School of Medicine and then Massachusetts General Hospital (MGH), Harvard Medical School, further refining his skills and knowledge in musculoskeletal imaging. He completed his Fellowship in MSK Radiology at UC San Diego in 2022, where he received training from renowned pioneers in the field. Before that, he completed his residency in Diagnostic Radiology at UT Health San Antonio from 2017 to 2021. Dr. Eajazi is a Diplomate of the American Board of Radiology and certified by ECFMG.

An active member of various professional organizations, including the RSNA, SSR and ARRS, Dr. Eajazi's passion for research and education is evidenced by his 50+ publications, including book chapters, papers, abstracts, and presentations. He has been recognized for his contributions to the field with Certificate of Merit awards from RSNA.

Dr. Eajazi's academic and clinical interests focus on musculoskeletal imaging, including sports-related injuries, bone tumors, MR neurography, and MSK interventions.

He is dedicated to providing the highest quality care for his patients while advancing the field of radiology through his research and teaching.
Education

Medical School

Tehran University of Medical Sciences (2008)

Research Fellowship

Boston University School of Medicine (2014), Musculoskeletal Radiology

Research Fellowship

Harvard Medical School/Massachusetts General Hospital (2016), Radiology

Internship

Washington Hospital Center (2017), General Surgery

Residency

Rutgers New Jersey Medical School (2017), Diagnostic Radiology

Residency

UT Health San Antonio (2021), Diagnostic Radiology

Fellowship

University of California at San Diego (2022), Musculoskeletal Radiology
Research Interest

Advanced Tumor Imaging
Image-Guided Injections and Biopsies
Magnetic Resonance Neurography
Sports Imaging
Publications

Featured Publications

Yu EW, Greenblatt L, Eajazi A, Torriani M, Bredella MA, Bone 2017 04 97 38-42
Bredella MA, Greenblatt LB, Eajazi A, Torriani M, Yu EW, Bone 2017 02 95 85-90
Eajazi A, Kheterpal A, Kattapuram S, Nielsen GP, Rosenthal DI, Skeletal Radiol 2017 Jan 46 1 117-121
Godoy IR, Martinez-Salazar EL, Eajazi A, Genta PR, Bredella MA, Torriani M, Metabolism 2016 Nov 65 11 1657-1663
Dichtel LE, Eajazi A, Miller KK, Torriani M, Bredella MA, J Comput Assist Tomogr 2016 Sep-Oct 40 5 678-82
Oliveira AL, Azevedo DC, Eajazi A, Palmer WE, Kwon YM, Bredella MA, Torriani M, Skeletal Radiol 2015 Dec 44 12 1755-60
Eajazi A, Kussman S, LeBedis C, Guermazi A, Kompel A, Jawa A, Murakami AM, AJR Am J Roentgenol 2015 Nov 205 5 W502-11
Shahi A, Eajazi A, Orthopedics 2015 Apr 38 4 219-21
Erfani Z, Jelodari Mamaghani H, Rawling JA, Eajazi A, Deever D, Mirmoeeni S, Azari Jafari A, Seifi A, Cureus 2022 Jun 14 6 e25616
Eajazi A, Madadi F, Madadi F, Boreiri M, Acta Med Iran 2013 Aug 51 7 444-8
Books

Featured Books

Imaging Diagnosis of Nerve Entrapments in the Shoulder. In The Shoulder

Eajazi, A., Bredella, M.A., Torriani, M. (2019). Springer, Cham

Magnetic Resonance Imaging of Soft Tissues. In Imaging of the Pelvis, Musculoskeletal System, and Special Applications to CAD

Eajazi A, Jarraya M, Guermazi A, Roemer F. (2016). Boca Raton, Taylor & Francis Group

The Bearing Surfaces in Total Hip Arthroplasty? Options, Material Characteristics and Selection. In Recent Advances in Arthroplasty

Seyyed Hosseinzadeh HR, Eajazi A, Sina Shahi A. (2012). United Kingdom, IntechOpen
Honors & Awards

Radiological Society of North America
Certificate of Merit (2020)
Radiological Society of North America
Certificate of Merit (2019)
Radiological Society of North America
Certificate of Merit (2018)
Professional Associations/Affiliations

American Board of Radiology (ABR)
American College of Radiology (ACR)
American Roentgen Ray Society (ARRS)
American Society of Spine Radiology (ASSR)
Radiological Society of North America (RSNA)
Society of Skeletal Radiology (SSR)