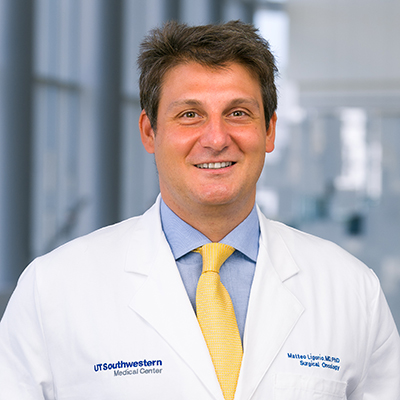 Matteo Ligorio

, M.D., Ph.D.
Assistant Professor
School Medical School
Department Surgery | Harold C. Simmons Comprehensive Cancer Center
Graduate Programs Cancer Biology
Biography

Dr. Matteo Ligorio earned his medical degree at the University of Genoa and completed a surgery residency there before pursuing a Ph.D. in molecular epidemiology and biostatistics at Harvard Medical School. After attaining his Ph.D., he became a research fellow and instructor at Harvard and at Massachusetts General Hospital. He was recruited by UT Southwestern in 2020, where he established a research lab to investigate cancer biology.

His work has focused on a number of important areas in cancer, notably how units of cells in pancreatic tumors have characteristics that affect the proliferation and spread of the tumors themselves. He also discovered that the presence of certain cells in tumors predicts patient survival. Apart from doing basic research, he has studied how implantable devices might deliver chemotherapy drugs to pancreatic tumors.

Dr. Ligorio has been published in high-profile journals such as Nature and Cell. He is the recipient of a number of awards, including endowments from Massachusetts General's ECOR Fund for Medical Discovery, the American-Italian Cancer Foundation, and the Hirshberg Foundation for Pancreatic Cancer Research. More recently, he has been designated as an investigator by the Cancer Prevention & Research Institute of Texas and has received grants from that institution as well as from the National Institutes of Health.

Attached please find the CV of Dr. Ligorio.
Publications

Featured Publications

Ligorio M, Sil S, Malagon-Lopez J, Nieman LT, Misale S, Di Pilato M, Ebright RY, Karabacak MN, Kulkarni AS, Liu A, Vincent Jordan N, Franses JW, Philipp J, Kreuzer J, Desai N, Arora KS, Rajurkar M, Horwitz E, Neyaz A, Tai E, Magnus NKC, Vo KD, Yashaswini CN, Marangoni F, Boukhali M, Fatherree JP, Damon LJ, Xega K, Desai R, Choz M, Bersani F, Langenbucher A, Thapar V, Morris R, Wellner UF, Schilling O, Lawrence MS, Liss AS, Rivera MN, Deshpande V, Benes CH, Maheswaran S, Haber DA, Fernandez-Del-Castillo C, Ferrone CR, Haas W, Aryee MJ, Ting DT, Cell 2019 Jun 178 1 160-175.e27
Indolfi L, Ligorio M, Ting DT, Xega K, Tzafriri AR, Bersani F, Aceto N, Thapar V, Fuchs BC, Deshpande V, Baker AB, Ferrone CR, Haber DA, Langer R, Clark JW, Edelman ER, Biomaterials 2016 07 93 71-82
Yan C, Brunson DC, Tang Q, Do D, Iftimia NA, Moore JC, Hayes MN, Welker AM, Garcia EG, Dubash TD, Hong X, Drapkin BJ, Myers DT, Phat S, Volorio A, Marvin DL, Ligorio M, Dershowitz L, McCarthy KM, Karabacak MN, Fletcher JA, Sgroi DC, Iafrate JA, Maheswaran S, Dyson NJ, Haber DA, Rawls JF, Langenau DM, Cell 2019 Jun 177 7 1903-1914.e14
Di Pilato M, Kim EY, Cadilha BL, Prüßmann JN, Nasrallah MN, Seruggia D, Usmani SM, Misale S, Zappulli V, Carrizosa E, Mani V, Ligorio M, Warner RD, Medoff BD, Marangoni F, Villani AC, Mempel TR, Nature 2019 06 570 7759 112-116
Geller LT, Barzily-Rokni M, Danino T, Jonas OH, Shental N, Nejman D, Gavert N, Zwang Y, Cooper ZA, Shee K, Thaiss CA, Reuben A, Livny J, Avraham R, Frederick DT, Ligorio M, Chatman K, Johnston SE, Mosher CM, Brandis A, Fuks G, Gurbatri C, Gopalakrishnan V, Kim M, Hurd MW, Katz M, Fleming J, Maitra A, Smith DA, Skalak M, Bu J, Michaud M, Trauger SA, Barshack I, Golan T, Sandbank J, Flaherty KT, Mandinova A, Garrett WS, Thayer SP, Ferrone CR, Huttenhower C, Bhatia SN, Gevers D, Wargo JA, Golub TR, Straussman R, Science 2017 09 357 6356 1156-1160
Son J, Lyssiotis CA, Ying H, Wang X, Hua S, Ligorio M, Perera RM, Ferrone CR, Mullarky E, Shyh-Chang N, Kang Y, Fleming JB, Bardeesy N, Asara JM, Haigis MC, DePinho RA, Cantley LC, Kimmelman AC, Nature 2013 Apr 496 7443 101-5