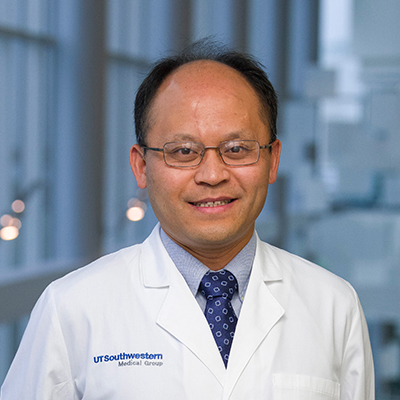 Daolin Tang

, M.D., Ph.D.
Professor
School Medical School
Department Surgery
Graduate Programs Cancer Biology
Biography

Daolin Tang, M.D., Ph.D., is an internationally known researcher whose work focuses on the molecular mechanisms of disease, especially pancreatic cancer. His research has been supported by the National Institutes of Health and American Cancer Society. Dr. Tang has received numerous awards, which include being named the Hillman Fellow for Innovative Cancer Research at the University of Pittsburgh Medical Center, and receiving a Research Scholar Award from the American Cancer Society.

Dr. Tang is an author on nearly 200 written works and is often invited by publishers to write articles that review microbiology topics. He earned his medical degree from the Norman Bethune College of Medicine and his Ph.D. at the Xiangya School of Medicine, both in China. He later received post-doctoral training at the University of Pittsburgh School of Medicine. He joined UT Southwestern in 2018, where he serves as an associate professor in the Department of Surgery.
Research Interest

Immunometabolism and sepsis
PAMPs and DAMPs in immunity
Pancreatic cancer
Regulated cell death (ferroptosis, pyroptosis, alkaliptosis) and autophagy
Publications

Featured Publications

Chen X, Huang J, Yu C, Liu J, Gao W, Li J, Song X, Zhou Z, Li C, Xie Y, Kroemer G, Liu J, Tang D, Kang R, Nat Commun 2022 Oct 13 1 6318
Wu R, Liu J, Wang N, Zeng L, Yu C, Chen F, Wang H, Billiar TR, Jiang J, Tang D, Kang R, Sci Transl Med 2022 Aug 14 659 eabo2028
Liu J, Liu Y, Wang Y, Li C, Xie Y, Klionsky DJ, Kang R, Tang D, Autophagy 2022 Aug 1-12
Chen X, Song X, Li J, Zhang R, Yu C, Zhou Z, Liu J, Liao S, Klionsky DJ, Kroemer G, Liu J, Tang D, Kang R, Autophagy 2022 Apr 1-21
Tang D, Kroemer G, Kang R, Mol Cancer 2021 Oct 20 1 128
Chen X, Zeh HJ, Kang R, Kroemer G, Tang D, Nat Rev Gastroenterol Hepatol 2021 Jul
Kuang F, Liu J, Xie Y, Tang D, Kang R, Cell Chem Biol 2021 Jun 28 6 765-775.e5
Chen X, Kang R, Kroemer G, Tang D, J Exp Med 2021 Jun 218 6
Chen X, Kang R, Kroemer G, Tang D, Trends Cancer 2021 May
Chen X, Kang R, Kroemer G, Tang D, Nat Rev Clin Oncol 2021 May 18 5 280-296
Books

Featured Books

Ferroptosis in Health and Disease

Daolin Tang (Ed.) (2019). Springer
Honors & Awards

Global Highly Cited Researcher
Clarivate/Web of Science (2022)
Expert in Sepsis
Expertscape (2021)
Global Highly Cited Researcher
Clarivate/Web of Science (2021)
Hillman Fellow for Innovative Cancer Research
UPMC Hillman Cancer Center (2018)
Research Scholar Award
The American Cancer Society (2016)
NanoString Technologies Award
NanoString (2014)
Jr. Scholar Award
University of Pittsburgh Cancer Institute (2013)
Career Development Award
Pancreatic Cancer Action Network and American Association for Cancer Research (2012)