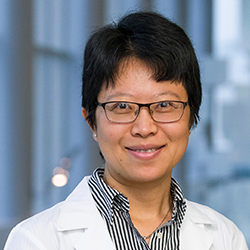 Rui Kang

, M.D., Ph.D.
Associate Professor
School Medical School
Department Surgery
Biography

Rui Kang, M.D., Ph.D., is at the forefront of molecular research in pancreatic cancer. Her work has been supported by the National Institutes of Health and has included investigations of pancreas cancer microenvironments. She is an author on dozens of book chapters and journal articles that cover topics related to the biology of cancer and sepsis. Dr. Kang is also on the editorial board of prominent journals in oncology and gastroenterology.

Dr. Kang earned her Ph.D. at Xiangya School of Medicine and her medical degree from the Norman Bethune College of Medicine, both in China. She then received post-graduate training at the University of Pittsburgh Cancer Institute. She was an assistant professor of research at the University of Pittsburgh before joining the surgery department at UT Southwestern in 2018, where she serves as an associate professor.
Research Interest

DAMPs and receptors
Pancreatic cancer
Sepsis