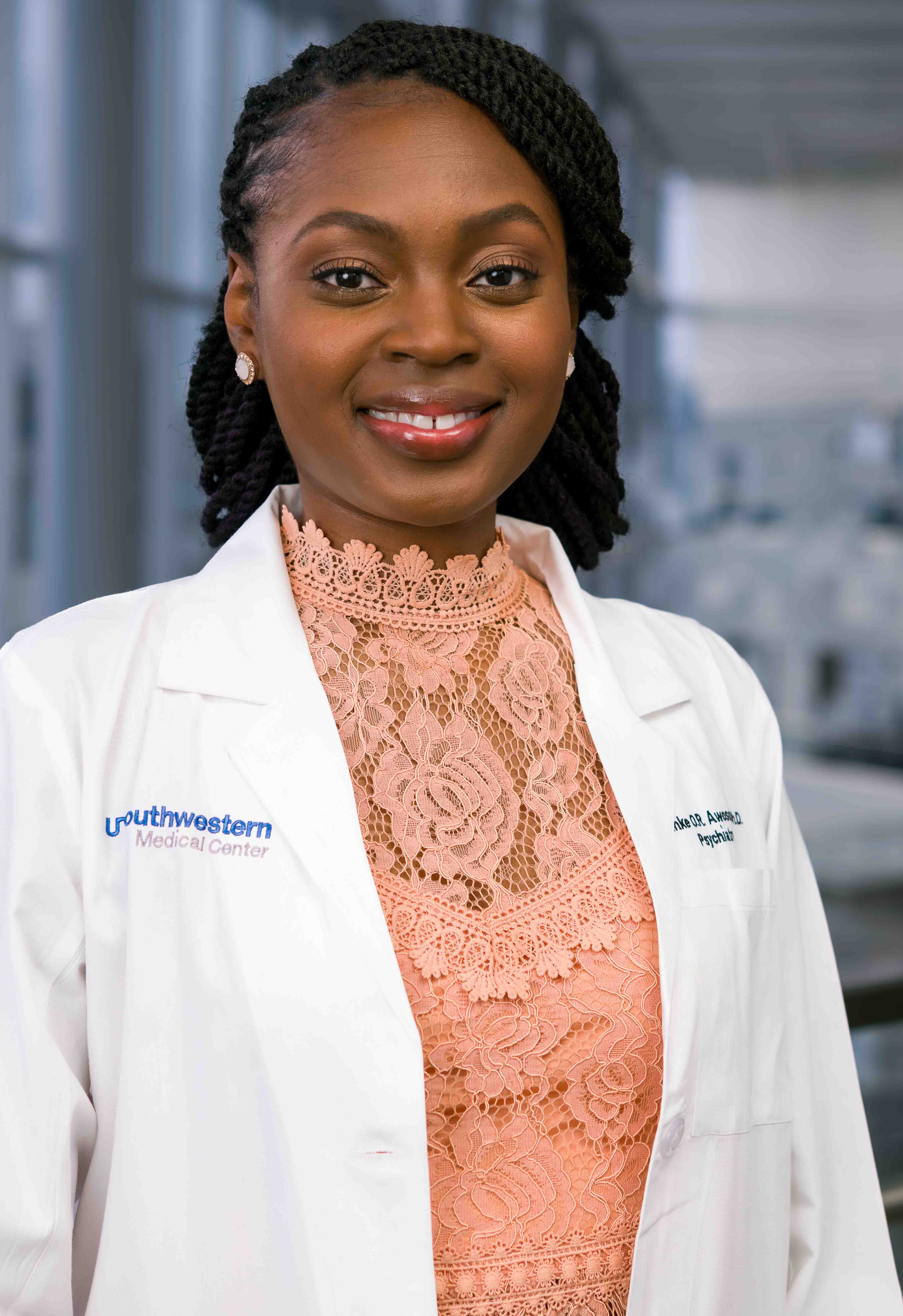 Olufunke Awosogba

, Ph.D.
Assistant Professor
Department Psychiatry
Biography

Dr. Olufunke Awosogba earned her M.A. and Ph.D. in Counseling Psychology from The University of Texas at Austin with clinical training in health psychology throughout her pre-doctoral internship at the Memphis VA Medical Center in Memphis, TN and post-doctoral residency at the Michael E. DeBakey VA Medical Center in Houston, TX.

Dr. Awosogba is the Director of the Behavioral Health Program in the Hematology and Oncology Outpatient Clinic at Parkland Health and Hospital Systems. Her clinical focus is on helping adults with chronic medical conditions achieve optimal psychological wellness and better quality of life. She is also passionate about increasing mental health literacy and reducing mental health stigma among people of color.

Dr. Awosogba has been invited to speak on constructs of race and its impact on mental health, developing an integrated behavioral health program, and coping with cancer to audiences ranging from health care providers and mental health professionals to the general public. In service, she is a charter member of the Dallas-Fort Worth Association of Black Psychologists, for which she is actively involved, as well as in the larger national organization. She is a member on the Board of Directors for Comfort Foundation, a non-profit organization focused on reducing mental health stigma among African descendants, and an active member in the American Psychological Association and the American Psychosocial Oncology Society, for which she also serves on the Mentorship and Professional Education committees.
Education

Graduate School

The University of Texas at Austin (2016), Psychology

Internship

Veterans Affairs Medical Center (2016), Psychology

Residency

Michael E. DeBakey VA Medical Center (2017), Psychology
Publications

Featured Publications

Rial K, Woodford J, Laywell A, Merrell C, Abbe M, Awosogba O, Musekura B, Kalondji J, Stewart S, Cultur Divers Ethnic Minor Psychol 2021 Nov
Robbins MA, Awosogba OOR, Knox-Rice TK, J Psychosoc Oncol 2021 39 3 305-308
Cokley K, Smith L, Bernard D, Hurst A, Jackson S, Stone S, Awosogba O, Saucer C, Bailey M, Roberts D J Couns Psychol 2017 Mar 64 2 141-154
McClain S, Beasley S, Jones B, Awosogba O, et al. Journal of Multicultural Counseling and Development 2016 44 2 101-117
Cokley K, Awad G, Smith L, Jackson S, Awosogba O, et al. Sex Roles 2015 73 414-426
Cokley K, Awosogba O, Taylor D Journal of Black Psychology 2014 40 3 215-238
Books

Featured Books

"A Stranger No More....": Applying African American psychology to address social issues. In Social issues in living color: Challenges and solutions from the perspective of ethnic minority psychology (Vol. 1), A. Blume (Ed.)

Hilliard-Chapman C, Beasley S, McClain S, Awosogba O, Cokley K (2017). Santa Barbara, CA, ABC CLIO/Praeger Publishing
Professional Associations/Affiliations

American Psychological Association (2008)
American Psychosocial Oncology Society (2019)
Association of Black Psychologists (2008)
Dallas Fort-Worth Association of Black Psychologists (2018)
Texas Psychological Association (2017)