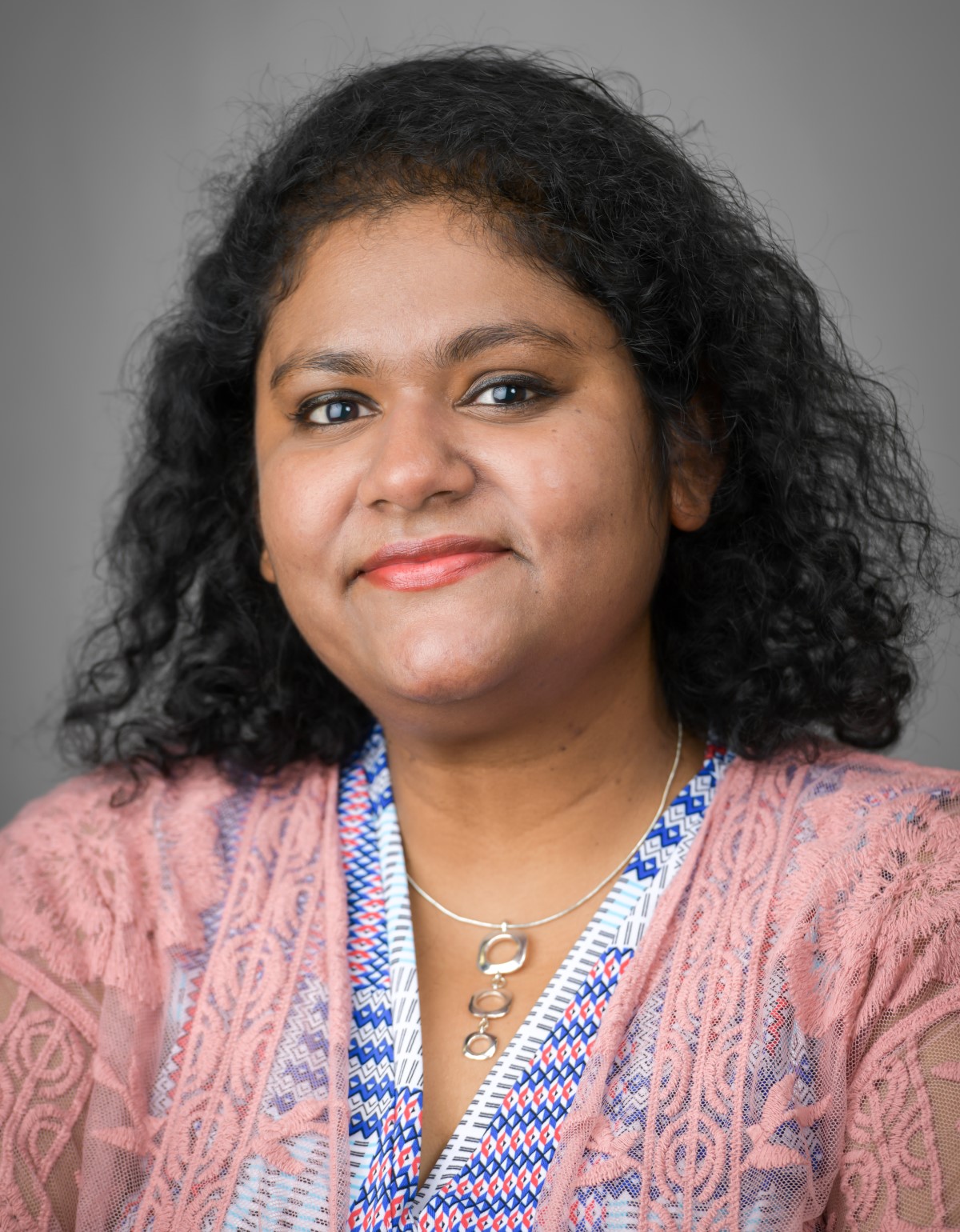 Sharmistha Mitra

, Ph.D.
Instructor
School Medical School
Department Pediatrics
Biography

Sharmistha Mitra, Ph.D., is an Assistant Instructor in the Department of Pediatrics, Division of Child Neurology at UT Southwestern Medical Center. She joined the UT Southwestern faculty in July 2020.

Dr. Mitra earned a bachelor's in Zoology at the University of Calcutta in Kolkata, India. She then completed a Bachelor of Science in Biological Sciences, Molecular, Cellular, and Developmental at the University of New Hampshire, graduating summa cum laude. In 2013, she completed a Doctor of Philosophy in Biological Sciences in the field of ubiquitin binding domains at Virginia Tech University.

Dr. Mitra focuses much of her research on protein modification by ubiquitin and its impact on diseases.
Research Interest

Protein-protein interactions in glycogen metabolism and neuromuscular diseases
Role of ubiquitin ligases in glycogen storage diseases
Therapy of certain pediatric neuromuscular diseases
Honors & Awards

Dr. Roy Elterman Pediatric Neurology Research Award
(2020-2021)
Nature Career Expo Travel Award
University of Texas System (2018)
Biophysical Society monthly newsletter
Selected to be featured in the Biophysical Society Student Spotlight section (2012)
Graduate Research & Development Grant Award
Graduate Student Association, Virginia Tech (2012)
'Make-a-difference' Scholarship
College of Science, Virginia Tech (2012-2013)
The American Heart Association Predoctoral Fellowship
The American Heart Association (2012-2013)
Best Interdisciplinary Oral Presentation Award
American Coastal Conference Interdisciplinary Forum for Diversity in Life Sciences, Virginia Tech (2010)
Certificate of achievement for 'Outstanding Participation in US Community and Campus life'
US Department of State, Bureau of Educational and Cultural Affairs (2008)
Certificate of Recognition for 'Outstanding Academic Achievement' Academy for Educational Development
(2008)
Fralin Graduate Fellowship
Fralin Research Institute, Virginia Tech (2008-2009)
International Peace Scholarship for Women
(2008-2009)
Undergraduate Research Award
University of New Hampshire, Undergraduate Research Opportunities Program (2007-2008)
Partnership for Learning Undergraduate Studies Scholarship (PLUS)
Scholarship created by the U.S Department of State's Bureau of Educational and Cultural Affairs, guided by Fulbright Association, India and funded by Academy for Educational Development, USA. Selected as the only Molecular biology student among ten scholars from India (2006)
Special Medal Award Department of Zoology
Bethune College, University of Calcutta for achieving First Class Honors in Zoology (2006)
2005 Gold Medal Award
By Tadoba Andhari Tiger project (TATP), India for obtaining the 1st position in a national level debate on Molecular Biology organized by TATP (2005)
Dean's list
Bethune College, Department of Zoology (2003-2006)
2001 Foundation for Excellence Scholarship
For excellent performance in 10th standard (2001)
Professional Associations/Affiliations

American Society for Biochemistry and Molecular Biology (ASBMB) (2021)
American Society of Cell Biology (ASCB) (2021)
American Society of Investigative Pathology (ASIP) (2021)