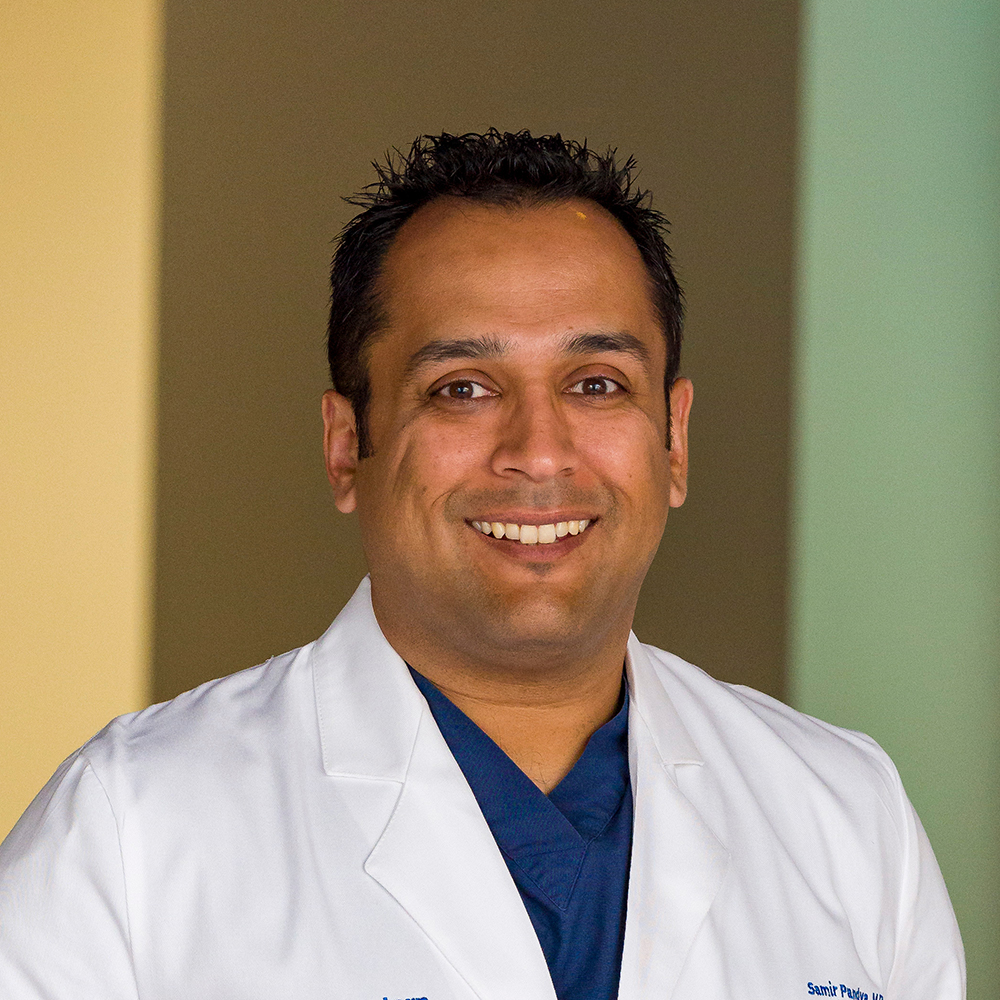 Samir Pandya

, M.D.
Professor
School Medical School
Department Surgery
Biography

Samir Pandya, M.D., came to the Department of Surgery in 2017, where he now serves as an associate professor. He chairs the program evaluation committee for the pediatric surgery fellowship at UT Southwestern and is co-chair of the International Pediatric Endosurgical Group for the U.S region. Prior to coming to our campus, he served in many leadership roles, including as surgical director for the adolescent bariatric program at Boston Children's Health Physicians, and as the director of newborn surgery at the Maria Fareri Children's Hospital, both in New York state.

Dr. Pandya has authored numerous book chapters and articles on topics related to pediatric surgery. He earned his medical degree from Virginia Commonwealth University and performed a general surgery residency at New York Medical College. He then completed a fellowship in pediatric general surgery at the Emory University School of Medicine in Atlanta.
Education

Medical School

Medical College of Virginia (2004)

Residency

New York Medical College/Westchester Medical Center (2009), General Surgery

Fellowship

Emory University/Children's Healthcare of Atlanta (2011), Pediatric Surgery
Research Interest

Minimally Invasive Surgery
Publications

Featured Publications

Mokdad AA, Wolf LL, Pandya S, Ryan M, Qureshi FG, Pediatrics 2020 11 146 5
Bisgaard E, Hewgley WP, Gee KM, Pandya S, Akarichi C, Arnoldo B, Park C, J Burn Care Res 2020 Aug
Polites SF, Moody S, Williams RF, Kayton ML, Alberto EC, Burd RS, Schroeppel TJ, Baerg JE, Munoz A, Rothstein WB, Boomer LA, Campion EM, Robinson C, Nygaard RM, Richardson CJ, Garcia DI, Streck CJ, Gaffley M, Petty JK, Greenwell C, Pandya S, Waters AM, Russell RT, Yorkgitis BK, Mull J, Pence J, Santore MT, MacArthur T, Klinkner DB, Safford SD, Trevilian T, Vogel AM, Cunningham M, Black C, Rea J, Spurrier RG, Jensen AR, Farr BJ, Mooney DP, Ketha B, Dassinger MS, Goldenberg-Sandau A, Roman JS, Jenkins TM, Falcone RA, J Trauma Acute Care Surg 2020 07 89 1 36-42
Fusaro MV, Becker C, Pandya S, Mcbride W, Alizadeh K, Iannotti V, Zelkovic P, Barst S, Tobias ME, Mohan A, Freda J, Gewitz M, Scurlock C J Telemed Telecare 2017 Jan 1357633X17715377
Singer J, Stringel G, Ozkaynak MF, McBride W, Pandya S, Sandoval C JSLS 2015 Jul-Sep 19 3
Talutis SD, Muensterer OJ, Pandya S, McBride W, Stringel G J. Pediatr. Surg. 2015 Mar 50 3 456-61
Bronstein ME, Pandya S, Snyder CW, Shi Q, Muensterer OJ Eur J Pediatr Surg 2015 Feb 25 1 82-6
Alemayehu H, Stringel G, Lo IJ, Golden J, Pandya S, McBride W, Muensterer O JSLS 2014 Jul-Sep 18 3
Jactel SN, Abramowsky CR, Schniederjan M, Durham MM, Ricketts RR, Clifton MS, Langberg KM, Elawabdeh N, Pandya S, Talebagha S, Shehata BM Fetal Pediatr Pathol 2013 Dec 32 6 422-8
Pandya SR, Ruiz R, Brudnicki A Am Surg 2013 Sep 79 9 891-2
Books

Featured Books

Pediatric Gastrointestinal and Hepatobiliary Surgery. In Textbook of Gastrointestinal and Hepatobiliary Surgery

Pandya S and Muensterer O (2016). New Delhi, Jaypee Brothers
Honors & Awards

Teaching and Mentorship Award
New York Medical College (2015)
Patient Care Champion
Westchester Medical Center (2014)
Patient Care Champion
Westchester Medical Center (2013)
Top Doctor/Healthcare Profession, Hudson Valley Parent Magazine
(2012)
Professional Associations/Affiliations

American College of Surgeons (2003)
American Pediatric Surgery Association (2011)
Eastern Association for the Surgery of Trauma (2009)
International Pediatric Endosurgery Group (IPEG) (2009)
Southeastern Surgical Association (2011)