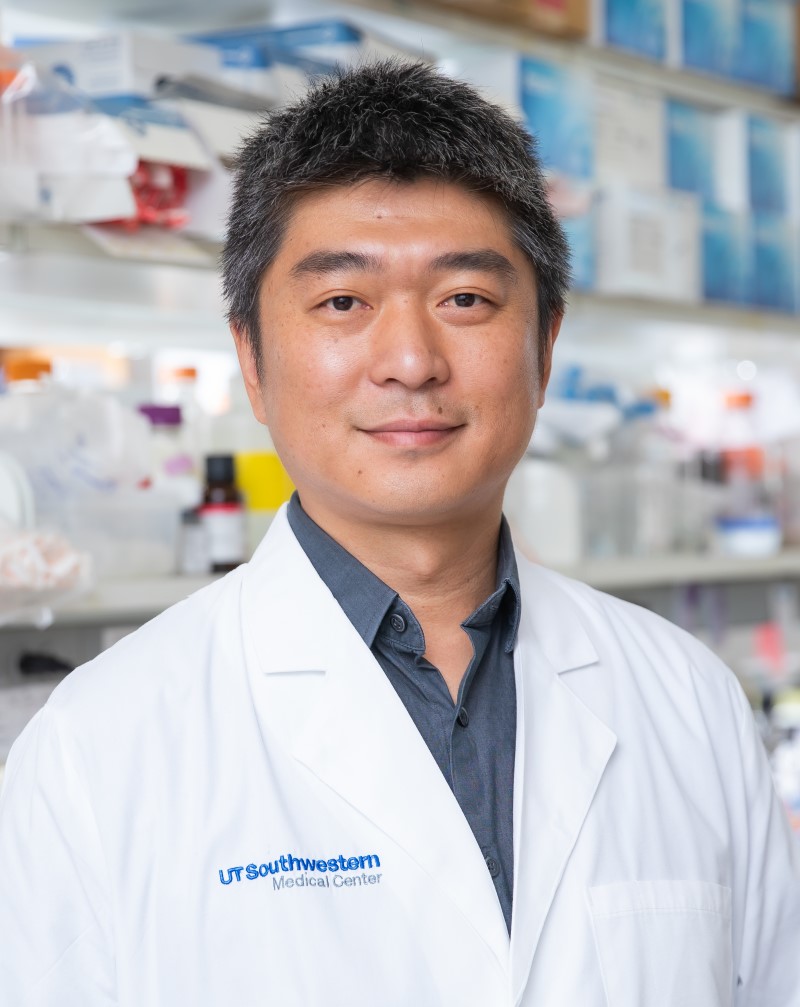 Jun Wu

, Ph.D.
Associate Professor
Endowed Title Virginia Murchison Linthicum Scholar in Medical Research
School Medical School
Department Molecular Biology
Graduate Programs Cell and Molecular Biology, Genetics, Development and Disease
Biography

Jun Wu obtained his bachelor degree in Clinical Medicine from Shandong University School of Medicine, China. He earned his Ph.D. degree in Life Science from the University of Tennessee, Knoxville, focusing on centrosome cycle regulation. Dr. Wu received his postdoctoral training at University of Southern California with Dr. Martin Pera and the Salk Institute with Dr. Juan Carlos Izpisua Belmonte. His postdoctoral work focused on stem cell biology and genome editing. In January 2018, Dr. Wu joined UT Southwestern as an assistant professor in the Department of Molecular Biology.

Dr. Wu's work has contributed to the generation of new stem cells for basic and translational studies, and developing novel and efficient genome and epigenome editing tools. He expanded the spectrum of pluripotent states by capturing several new types of pluripotent stem cells (PSCs) with distinct molecular and phenotypic features from different species. He has also generated PSC-derived interspecies chimeras and developed an efficient and versatile interspecies blastocyst complementation system for the generation of organs and tissues from one species inside another species. His group is particularly interested in harnessing interspecies chimeras for studying developmental biology in an evolutionary context, body- and organ-size determination, species' specific behavioral traits, cancer resistance, and molecular basis of species barriers. Most recently, Dr. Wu's group has developed strategies to generate stem cell embryo models for studying peri-implantation development in vitro.
Research Interest

Genome and Epigenome Editing
Interspecies Chimeras and Organogenesis
Pluripotent stem cells
Species Preservation
Stem cell embryo models
Publications

Featured Publications

Pinzón-Arteaga CA, Wang Y, Wei Y, Ribeiro Orsi AE, Li L, Scatolin G, Liu L, Sakurai M, Ye J, Hao MingYu L, Li B, Jiang Z, Wu J, Cell Stem Cell 2023 May 30 5 611-616.e7
Yu L, Wei Y, Duan J, Schmitz DA, Sakurai M, Wang L, Wang K, Zhao S, Hon GC, Wu J, Nature 2021 Mar 591 7851 620-626
Zheng C, Hu Y, Sakurai M, Pinzon-Arteaga CA, Li J, Wei Y, Okamura D, Ravaux B, Barlow HR, Yu L, Sun HX, Chen EH, Gu Y, Wu J, Nature 2021 Jan
Yu L, Wei Y, Sun HX, Mahdi AK, Pinzon Arteaga CA, Sakurai M, Schmitz DA, Zheng C, Ballard ED, Li J, Tanaka N, Kohara A, Okamura D, Mutto AA, Gu Y, Ross PJ, Wu J, Cell Stem Cell 2020 Nov
Gong Y, Bai B, Sun N, Ci B, Shao H, Zhang T, Yao H, Zhang Y, Niu Y, Liu L, Zhao H, Wu H, Zhang L, Wang T, Li S, Wei Y, Yu Y, Ribeiro Orsi AE, Liu B, Ji W, Wu J, Chen Y, Tan T, Cell 2023 May 186 10 2092-2110.e23
Wang Y, Ming H, Yu L, Li J, Zhu L, Sun HX, Pinzon-Arteaga CA, Wu J, Jiang Z, Cell Rep 2023 Apr 112439
Luo Q, Pui HP, Chen J, Yu L, Jannig PR, Pei Y, Zhao L, Chen X, Petropoulos S, Ruas JL, Wu J, Deng Q, Cell Rep 2023 Jan 42 1 112021
Zhai J, Guo J, Wan H, Qi L, Liu L, Xiao Z, Yan L, Schmitz DA, Xu Y, Yu D, Wu X, Zhao W, Yu K, Jiang X, Guo F, Wu J, Wang H, Nature 2022 Dec 612 7941 732-738
Schmitz DA, Wu J, Life Med 2022 Dec 1 3 250-253
Wu J, Pereira CF, Lu YR, Cell Reprogram 2022 May
Honors & Awards

Virginia Murchison Linthicum Scholar in Medical Research
The Endowed Scholars Program in Medical Science provides generous financial support over four years to newly appointed tenure-track assistant professors at UT Southwestern Medical Center. (2018)
CPRIT Scholar: First-Time, Tenure-Track Faculty Members Program
The First-Time, Tenure-Track Faculty Members program recruits emerging investigators pursuing their first faculty appointment who have the ability to make outstanding contributions to the field of cancer research. (2017)
Postdoctoral Training Fellowship , California Institute for Regenerative Medicine
(2010-2011)