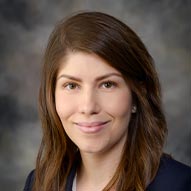 Angela Canas

, Ph.D.
Assistant Professor
School Medical School
Department Psychiatry
Biography

Dr. Canas is a clinical neuropsychologist at Children's Health and an Assistant Professor of Psychiatry at the University of Texas Southwestern (UTSW) Medical Center. Dr. Canas conducts neuropsychological evaluations of pediatric patients with an array of complex medical, developmental, and neurological conditions, with an emphasis on Spanish-monolingual and bilingual patients, as well as those with neurofibromatosis, type I (NF1) and congenital heart disease (CHD). She is the Lead Pediatric Neuropsychologist for the Children's Health/UTSW Neurofibromatosis Program and the Bilingual Neuropsychologist for the Children's Health Heart Center Fontan Program.

Dr. Canas's clinical interests include formulating effective methods by which to establish the need for comprehensive neuropsychological evaluations in patients with NF1 and CHD and increasing the quality of care provided to Spanish-speaking families. Her research interests primarily revolve around the cognitive, academic, and psychosocial outcomes of NF1, CHD, and dual language exposure. Dr. Canas participates in research projects sponsored by the NF Clinical Trials Consortium and the Cardiac Neurodevelopmental Outcome Collaborative and has published in the area of bilingual assessment.

Dr. Canas holds a National Certification in School Psychology and was elected to the Board of Directors of the Hispanic Neuropsychological Society (2022-2024).  She is also the Co-Chair of the Children's Health Neuropsychology Bilingual Committee, serves on the UTSW Clinical Training Committee, and participates in the education and clinical supervision of trainees, recently serving as the Children's Health/UTSW Cultural Diversity Scholar supervisor.
Education

Undergraduate

Southern Methodist University (2006), Psychology

Graduate School

Southern Methodist University (2009), Counseling Psychology

Graduate School

Texas Woman's University (2014), School Psychology
Research Interest

Collaborator/Co-Investigator for the Children's Health Heart Center Fontan Program (Cardiac Neurodevelopmental Outcome Collaborative Member)
Collaborator/Co-Investigator for the UTSW Neurofibromatosis (NF) Research Program (NF Clinical Trials Consortium Member)
Professional Associations/Affiliations

Hispanic Neuropsychological Society (2019)
International Neuropsychological Society (2013)