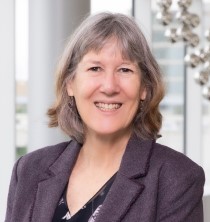 Margaret Phillips

, Ph.D.
Professor & Chair
Endowed Title The Sam G. Winstead and F. Andrew Bell Distinguished Chair in Biochemistry
School Medical School
Department Biochemistry | Pharmacology
Graduate Programs Biological Chemistry, Molecular Biophysics
Biography

Margaret A. Phillips was born in Cleveland, Ohio in 1959. She received her undergraduate degree in Biochemistry from the University of California, Davis (1981) and her PhD in Pharmaceutical Chemistry from the University of California, San Francisco (1988), where she was also a postdoctoral fellow in the Dept. of Biochemistry (1988-1992).

Dr. Phillips is currently Professor and Chair of the Department of Biochemistry at UT Southwestern, where her research focuses on biochemistry and drug discovery in parasitic protozoa.
Education

Undergraduate

Uni of California-Davis (1981), Biochemistry

Graduate School

Uni of California-Sfrancisco (1988), Pharmaceutical Chemistry
Research Interest

Drug discovery for Malaria and Africa Sleeping Sickness
Proteasome as a drug target in Malaria
Pyrimidine metabolism in trypanosome and malaria parasites
Regulation and function of polyamine biosynthesis in African trypanosomes
Publications

Featured Publications

Imlay LS, Lawong AK, Gahalawat S, Kumar A, Xing C, Mittal N, Wittlin S, Churchyard A, Niederstrasser H, Crespo-Fernandez B, Posner BA, Gamo FJ, Baum J, Winzeler EA, Laleu B, Ready JM, Phillips MA, ACS Infect Dis 2023 Feb
Palmer MJ, Deng X, Watts S, Krilov G, Gerasyuto A, Kokkonda S, El Mazouni F, White J, White KL, Striepen J, Bath J, Schindler KA, Yeo T, Shackleford DM, Mok S, Deni I, Lawong A, Huang A, Chen G, Wang W, Jayaseelan J, Katneni K, Patil R, Saunders J, Shahi SP, Chittimalla R, Angulo-Barturen I, Jiménez-Díaz MB, Wittlin S, Tumwebaze PK, Rosenthal PJ, Cooper RA, Aguiar ACC, Guido RVC, Pereira DB, Mittal N, Winzeler EA, Tomchick DR, Laleu B, Burrows JN, Rathod PK, Fidock DA, Charman SA, Phillips MA, J Med Chem 2021 Apr
Lawong A, Gahalawat S, Okombo J, Striepen J, Yeo T, Mok S, Deni I, Bridgford JL, Niederstrasser H, Zhou A, Posner B, Wittlin S, Gamo FJ, Crespo B, Churchyard A, Baum J, Mittal N, Winzeler E, Laleu B, Palmer MJ, Charman SA, Fidock DA, Ready JM, Phillips MA, J Med Chem 2021 Feb
Patel MM, Volkov OA, Leija C, Lemoff A, Phillips MA PLoS Pathog. 2018 Oct 14 10 e1007404
Afanador GA, Tomchick DR, Phillips MA Structure 2018 Aug
Llanos-Cuentas A, Casapia M, Chuquiyauri R, Hinojosa JC, Kerr N, Rosario M, Toovey S, Arch RH, Phillips MA, Rozenberg FD, Bath J, Ng CL, Cowell AN, Winzeler EA, Fidock DA, Baker M, Möhrle JJ, Hooft van Huijsduijnen R, Gobeau N, Araeipour N, Andenmatten N, Rückle T, Duparc S Lancet Infect Dis 2018 Jun
Volkov OA, Kinch L, Ariagno C, Deng X, Zhong S, Grishin N, Tomchick DR, Chen Z, Phillips MA Elife 2016 Dec 5
Leija C, Rijo-Ferreira F, Kinch LN, Grishin NV, Nischan N, Kohler JJ, Hu Z, Phillips MA PLoS Pathog. 2016 Nov 12 11 e1006010
Phillips MA, Lotharius J, Marsh K, White J, Dayan A, White KL, Njoroge JW, El Mazouni F, Lao Y, Kokkonda S, Tomchick DR, Deng X, Laird T, Bhatia SN, March S, Ng CL, Fidock DA, Wittlin S, Lafuente-Monasterio M, Benito FJ, Alonso LM, Martinez MS, Jimenez-Diaz MB, Bazaga SF, Angulo-Barturen I, Haselden JN, Louttit J, Cui Y, Sridhar A, Zeeman AM, Kocken C, Sauerwein R, Dechering K, Avery VM, Duffy S, Delves M, Sinden R, Ruecker A, Wickham KS, Rochford R, Gahagen J, Iyer L, Riccio E, Mirsalis J, Bathhurst I, Rueckle T, Ding X, Campo B, Leroy D, Rogers MJ, Rathod PK, Burrows JN, Charman SA Sci Transl Med 2015 Jul 7 296 296ra111
Willert EK, Phillips MA PLoS Pathog. 2008 Oct 4 10 e1000183
Honors & Awards

Elected Fellow of the American Society for Biochemistry and Molecular Biology (ASBMB)
(2022)
Elected Fellowship of the American Academy of Microbiology
(2022)
Election to National Academy of Sciences
(2021)
Member The Academy of Medicine, Engineering and Science of Texas (TAMEST)
(2021)
Medicines for Malaria Venture
Project of the Year (2010)
NIH Merit Award
(2009-2019)
Burroughs Wellcome Fund Scholars Award in Molecular Parasitology
(1999)
American Heart Association Established Investigator Award
(1996)
Burroughs Wellcome Fund, New Investigator Award in Molecular Parasitology
(1995)
Professional Associations/Affiliations

American Chemical Society
American Society of Biochemistry and Molecular Biology
American Society of Pharmacology and Experimental Therapeutics
American Society of Tropical Medicine and Hygiene