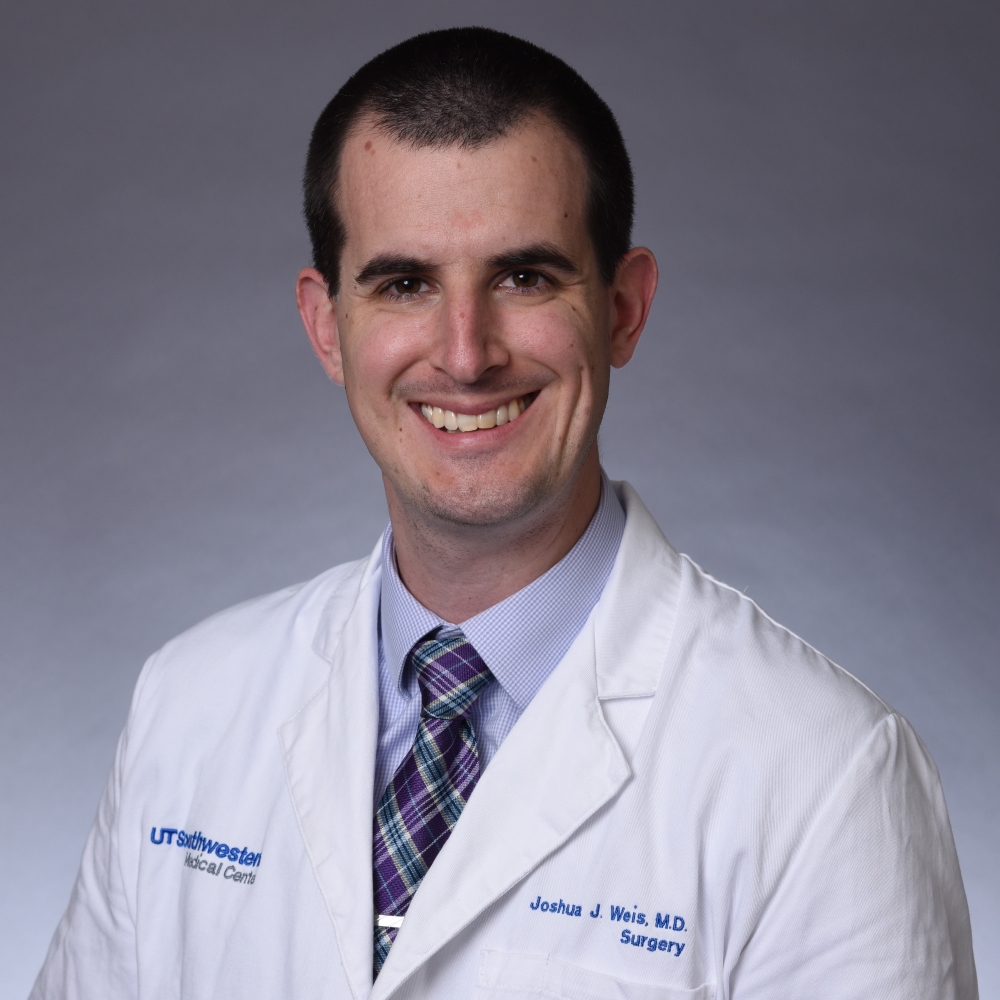 Joshua Weis

, M.D.
Assistant Professor
School Medical School
Department Surgery
Biography

Joshua Weis, M.D., serves as clinical faculty at the Veterans Affairs Hospital in Dallas. His areas of focus are weight loss surgery, minimally invasive GI surgery, and hernia surgery. He has a special interest in revisional weight loss operations for patients who have sub-optimal results or complications from prior attempts at surgical weight loss. He also has special training in robotic surgery, and he offers robotic abdominal wall reconstruction procedures and hybrid procedures to his patients with complex hernias.

Dr. Weis has been an assistant professor at UT Southwestern since 2022. He received his medical degree from the University of Pittsburgh and performed a general surgery residency at Parkland Hospital in Dallas, TX. He then received advanced training in minimally invasive and bariatric surgery during his fellowship at the University of Texas Health Science Center in Houston. He has authored numerous scientific publications and book chapters and was recognized with the prestigious Researcher in Training Award by the Society of American Gastrointestinal and Endoscopic Surgeons (SAGES) in 2020.
Publications

Featured Publications

Monfared S, Weis JJ, Shah SK, Scott DJ, Felinski MM, Wilson EB, Surg Endosc 2022 Sep
Weis J, Brunt LM, Madani A, Telem D, Nagaraj M, Asbun H, Davis BR, Dissanaike S, Ujiki MB, Westcott CJ, Alseidi A, Surg Endosc 2022 Aug
Weis JJ, Pryor A, Alseidi A, Tellez J, Goldblatt MI, Mattar S, Murayama K, Awad M, Scott DJ, Surg Endosc 2022 May
Weis JJ, Alseidi AA, Jeyarajah DR, Schweitzer MA, Hori Y, Cheung V, Scott DJ, Surg Endosc 2019 Jun
Timberlake MD, Mayo HG, Scott L, Weis J, Gardner AK Ann. Surg. 2017 Jan
Nagaraj MB, Alseidi A, Prabhu AS, Greenberg JA, Awad MM, Weis JJ, Scott DJ, Surg Endosc 2022 Dec
Weis JJ, Gee D, Honigsberg E, Goldblatt M, Pryor A, Scott DJ, Surg Endosc 2021 Nov
Lee JH, Weis JJ, Talamini MA, Schultz L, Hori Y, Nagaraj MB, Scott DJ, Surg Endosc 2021 May
Nagaraj MB, Weis HB, Weis JJ, Cook GS, Bailey LW, Shoultz TH, Farr DE, AbdelFattah KR, Dultz LA, J Surg Res 2021 May 267 366-373
Weis HB, Pickett ML, Weis JJ, Dorsey O, Bailey LW, Gardner AK, Napier R, AbdelFattah KR, J Surg Educ 2020 Sep - Oct 77 5 1132-1137
Honors & Awards

SAGES Researcher in Training
(2020)
Professional Associations/Affiliations

Dallas VA Medical Center (2022)