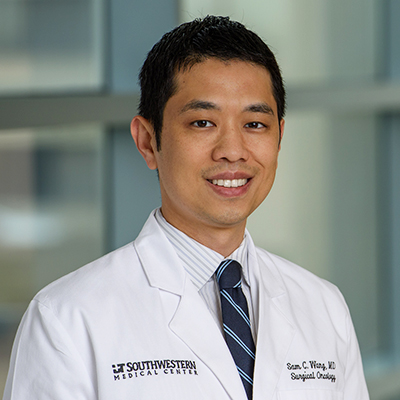 Sam Wang

, M.D.
Associate Professor
School Medical School
Department Surgery
Graduate Programs Cancer Biology
Biography

Sam Wang, M.D., FACS is a surgeon-scientist and a member of the Division of Surgical Oncology in the Department of Surgery. His clinical focus includes cancers of the liver, pancreas, stomach, and bile duct.

Dr. Wang graduated from Stanford University, where he received a B.S. with honors in biological science and an A.B. with high honors in history. He attended medical school at Duke University School of Medicine and completed an internship and residency in general surgery at the University of California, San Francisco. He then received advanced training in complex general surgical oncology through a fellowship at Memorial Sloan Kettering Cancer Center. He joined the UT Southwestern faculty in 2014.

In the lab, Dr. Wang is studying cellular intrinsic and extrinsic factors that regulate gastric cancer initiation, progression, and response to therapy. In addition, he is studying the molecular mechanisms behind outcome disparities that Hispanic gastric cancer patients face. The goals for his research are to identify new diagnostic and therapeutic strategies to improve outcomes for cancer patients.

Dr. Wang is a UT Southwestern Disease-Oriented Clinical Scholar and received an R37 NCI MERIT Award for Early-Stage Investigators from the National Cancer Institute. He is a member of the Society of Surgical Oncology, the Association for Academic Surgery, the Society of University Surgeons, the American Association for Cancer Research, and the American College of Surgeons. He is fluent in Mandarin.
Education

Medical School

Duke University School of Medicine (2005)

Residency

UCSF School of Medicine (2012), Surgery

Fellowship

Memorial Sloan-Kettering Cancer Center (2014), Surgical Oncology
Research Interest

Biomarker discovery to guide cancer care
Gastric cancer
Molecular basis for cancer therapy resistance
Molecular mechanisms behind disparities in cancer outcomes
Publications

Featured Publications

Karalis JD, Yoon LY, Hammer STG, Hong C, Zhu M, Nassour I, Ju MR, Xiao S, Castro-Dubon EC, Agrawal D, Suarez J, Reznik SI, Mansour JC, Polanco PM, Yopp AC, Zeh HJ, Hwang TH, Zhu H, Porembka MR, Wang SC, J Transl Med 2022 03 20 1 116
Cheong JH, Wang SC, Park S, Porembka MR, Christie AL, Kim H, Kim HS, Zhu H, Hyung WJ, Noh SH, Hu B, Hong C, Karalis JD, Kim IH, Lee SH, Hwang TH, Nat Commun 2022 02 13 1 774
Wang SC, Yeu Y, Hammer STG, Xiao S, Zhu M, Hong C, Clemenceau JR, Yoon LY, Nassour I, Shen J, Agarwal D, Reznik SI, Mansour JC, Yopp AC, Zhu H, Hwang TH, Porembka MR, Cancer Res 2020 06 80 11 2114-2124
Sun X, Wang SC, Wei Y, Luo X, Jia Y, Li L, Gopal P, Zhu M, Nassour I, Chuang JC, Maples T, Celen C, Nguyen LH, Wu L, Fu S, Li W, Hui L, Tian F, Ji Y, Zhang S, Sorouri M, Hwang TH, Letzig L, James L, Wang Z, Yopp AC, Singal AG, Zhu H Cancer Cell 2017 Nov 32 5 574-589.e6
Park S, Karalis JD, Hong C, Clemenceau JR, Porembka MR, Kim IH, Lee SH, Wang SC, Cheong JH, Hwang TH, Clin Cancer Res 2022 Dec
Celen C, Chuang JC, Shen S, Li L, Maggiore G, Jia Y, Luo X, Moore A, Wang Y, Otto JE, Collings CK, Wang Z, Sun X, Nassour I, Park J, Ghaben A, Wang T, Wang SC, Scherer PE, Kadoch C, Zhu H, Cell Rep 2022 Nov 41 5 111581
Karalis JD, Wang SC, J Am Coll Surg 2022 Aug 235 2 304-305
Ju MR, Karalis JD, Chansard M, Augustine MM, Mortensen E, Wang SC, Porembka MR, Zeh HJ, Yopp AC, Polanco PM, Ann Surg Oncol 2022 Aug
Ju MR, Wang SC, Mansour JC, Polanco PM, Yopp AC, Zeh HJ, Porembka MR, JCO Oncol Pract 2022 Feb OP2100431
Ju MR, Karalis JD, Bhat A, Zhu H, Hogan T, Balentine C, Yopp AC, Polanco PM, Wang SC, Zeh HJ, Porembka MR, Ann Surg Oncol 2022 Jan
Honors & Awards

R37 NCI MERIT Award for Early-Stage Investigators
National Cancer Institute (2022)
Jacobson Promising Investigator Award
American College of Surgeons (2019)
Faculty Research Fellowship
American College of Surgeons (2017-2019)
Health Care Disparities Research Award
Society for Surgery of the Alimentary Tract (2017-2019)
Outstanding Mentor, Center for Translational Medicine
University of Texas Southwestern Medical Center (2017)
Disease-Oriented Clinical Scholar
University of Texas Southwestern Medical Center (2015-2018)
Conquer Cancer Foundation Merit Award
American Society of Clinical Oncology (2014)
Outstanding Resident Achievement Award
Department of Surgery, University of California, San Francisco (2012)
Professional Associations/Affiliations

American Association for Cancer Research (2008)
American Association for Cancer Research (2008)
American College of Surgeons (2005)
Association for Academic Surgery (2013)
Society for Surgery of the Alimentary Tract (2016)
Society of Surgical Oncology (2013)
Society of University Surgeons (2020)
UCSF Naffziger Surgical Society (2012)