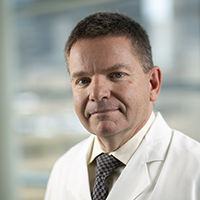 Alan Dackiw

, M.D., Ph.D., M.B.A.
Professor
School Medical School
Department Surgery
Biography

Alan Dackiw, M.D., Ph.D., is a minimally invasive endocrine surgeon who treats disorders of the thyroid, parathyroid, adrenal gland, and neuroendocrine pancreas.

His research involves the use of nerve monitoring, particularly intraoperative nerve monitoring, during thyroid and parathyroid surgery and the involvement of certain signaling pathways in the development of endocrine neoplasia as it relates to endocrine organ development.

After receiving his B.Sc. with honors from the University of Manitoba, Dr. Dackiw earned his medical degree and a B.Sc. in medicine at the University of Manitoba. He completed his residency in general surgery and Ph.D. at the University of Toronto and a surgical oncology fellowship at MD Anderson Cancer Center. He then completed an endocrine surgery fellowship at the University of California, San Francisco.

Dr. Dackiw was recruited to join the UT Southwestern faculty after serving on the surgical faculty at Johns Hopkins for 11 years.

He has performed more than 3,000 operations on the thyroid, parathyroid, adrenal glands, and pancreas, and has published extensively, in more than 150 articles, chapters, textbooks, and abstracts. He serves on the editorial board of a number of medical journals and is a member of many professional organizations, including the Society of Surgical Oncology, the International Association of Endocrine Surgeons, the American Association of Endocrine Surgeons, and the Endocrine Society.
Education

Medical School

University of Manitoba Max Rady College of Medicine (1990)

Other Post Graduate Training

University of Manitoba Max Rady College of Medicine (1990)

Graduate School

University of Manitoba Max Rady College of Medicine (1990)

Internship

University of Manitoba (1991), Surgery

Other Post Graduate Training

University of Toronto, Canada (1995)

Graduate School

University of Toronto, Canada (1995)

Residency

University of Toronto, Canada (1998), Surgery

Fellowship

University of Texas MD Anderson Cancer Center (2000), Surgical Oncology

Fellowship

University of California San Francisco Medical Cen (2001), Endocrine Surgery

Other Post Graduate Training

University of Texas at Dallas (2016)

Graduate School

University of Texas at Dallas (2016)