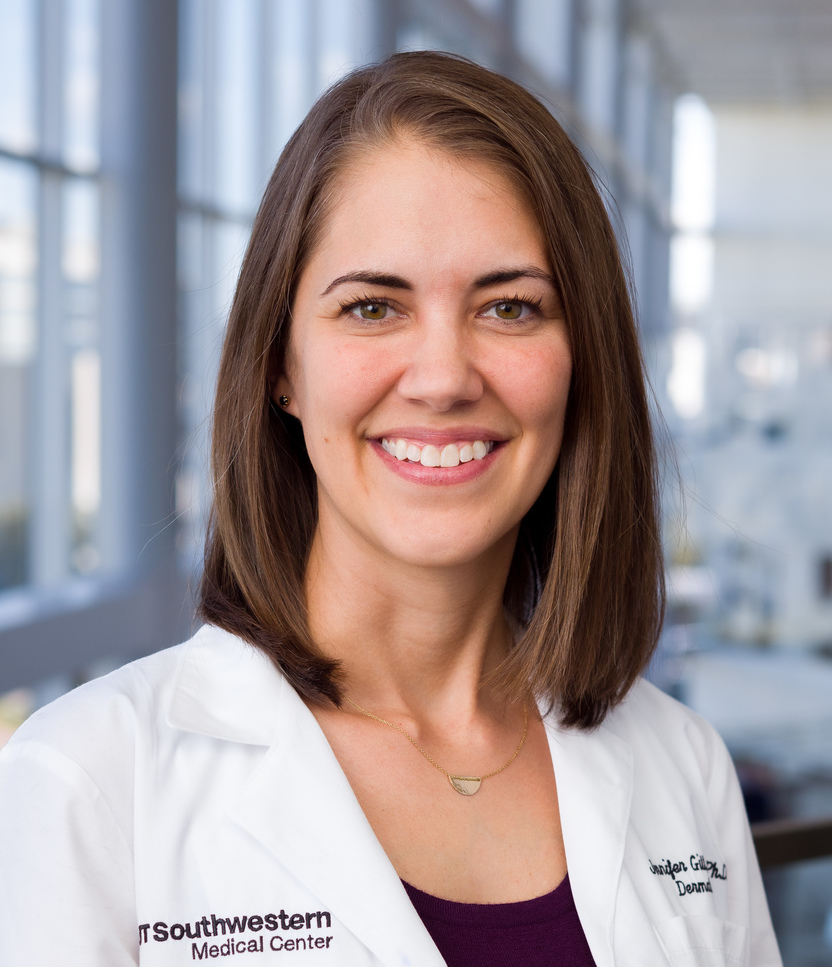 Jennifer Gill

, M.D., Ph.D.
Assistant Professor
School Medical School
Department Dermatology
Graduate Programs Cancer Biology
Biography

Dr. Gill received her M.D. and Ph.D. (Immunology) degrees from the Medical Scientist Training Program at Washington University Medical School in St. Louis. Prior to joining the faculty, she completed her dermatology residency and a cancer biology postdoctoral fellowship at the University of Texas Southwestern Medical Center. She is board-certified by the American Board of Dermatology and sees patients with melanoma and advanced skin cancer in her dermatology clinic at UTSW Professional Office Building 2.

In addition to clinical work, Dr. Gill runs a research laboratory focused on understanding the molecular and metabolic regulators of melanoma. Her specific interests include 1) Characterizing the role of the enzyme GAPDHS in melanoma progression and metastasis; 2) Determining how tumor metabolism impacts melanoma behavior, therapeutic response, and patient outcomes; and 3) Leveraging clinical and translational studies in patients to teach us about melanoma biology.
Education

Medical School

Washington University School of Medicine (2012)

Graduate School

Washington University School of Medicine in St. Louis (2012)

Internship

Texas Health Presbyterian Hospital Dallas (2013), Internal Medicine

Residency

UT Southwestern Medical Center (2016), Dermatology
Research Interest

Cancer metastasis
Melanoma metastasis
Targeted therapies for treatment of cancer
Publications

Featured Publications

Digoxin Plus Trametinib Therapy Achieves Disease Control in BRAF Wild-Type Metastatic Melanoma Patients.

Frankel AE, Eskiocak U, Gill JG, Yuan S, Ramesh V, Froehlich TW, Ahn C, Morrison SJ Neoplasia 2017 Mar 19 4 255-260
Gill JG, Piskounova E, Morrison SJ Cold Spring Harb. Symp. Quant. Biol. 2017 Jan
Eskiocak U, Ramesh V, Gill JG, Zhao Z, Yuan SW, Wang M, Vandergriff T, Shackleton M, Quintana E, Johnson TM, DeBerardinis RJ, Morrison SJ Nat Commun 2016 7 12336

Cutaneous manifestations of chemotherapeutic drugs

Gill JG and Dominguez A Current Dermatology Reports 2016 5 1

Dual actions of Meis1 inhibit erythroid progenitor development and sustain general hematopoietic cell proliferation.

Cai M, Langer EM, Gill JG, Satpathy AT, Albring JC, KC W, Murphy TL, Murphy KM Blood 2012 Jul 120 2 335-46

Snail promotes the cell-autonomous generation of Flk1(+) endothelial cells through the repression of the microRNA-200 family.

Gill JG, Langer EM, Lindsley RC, Cai M, Murphy TL, Murphy KM Stem Cells Dev. 2012 Jan 21 2 167-76

Snail and the microRNA-200 family act in opposition to regulate epithelial-to-mesenchymal transition and germ layer fate restriction in differentiating ESCs.

Gill JG, Langer EM, Lindsley RC, Cai M, Murphy TL, Kyba M, Murphy KM Stem Cells 2011 May 29 5 764-76

Mesp1 coordinately regulates cardiovascular fate restriction and epithelial-mesenchymal transition in differentiating ESCs.

Lindsley RC, Gill JG, Murphy TL, Langer EM, Cai M, Mashayekhi M, Wang W, Niwa N, Nerbonne JM, Kyba M, Murphy KM Cell Stem Cell 2008 Jul 3 1 55-68
Lindsley RC, Gill JG, Kyba M, Murphy TL, Murphy KM Development 2006 Oct 133 19 3787-96
Books

Featured Books

Rituximab and Future Biologic Therapies. In Comprehensive Dermatologic Drug Therapy, 3rd Edition

Leonardi, CL, Heffernan, MP, and Gill, JG (2012). Saunders Publishing Company
Honors & Awards

Dermatology Foundation Physician-Scientist Career Development Award
(2017)
Dermatologist Investigator Research Fellowship
(2016)
UTSW Dermatology Resident Award for Leadership
(2016)
Dermatology Resident Award for Humanism and Professionalism
(2015)
Physician Scientist Training Program Grant Recipient
(2015)
Texas Health Presbyterian Hospital "Intern of the Year" Award
(2013)
American Physician Scientist Association Travel Award Recipient
(2009)
Barry M. Goldwater National Scholarship
(2002)
University of Georgia Foundation Fellowship Scholarship
(1999-2003)
Professional Associations/Affiliations

American Academy of Dermatology (2013)
Society for Investigative Dermatology (2013)