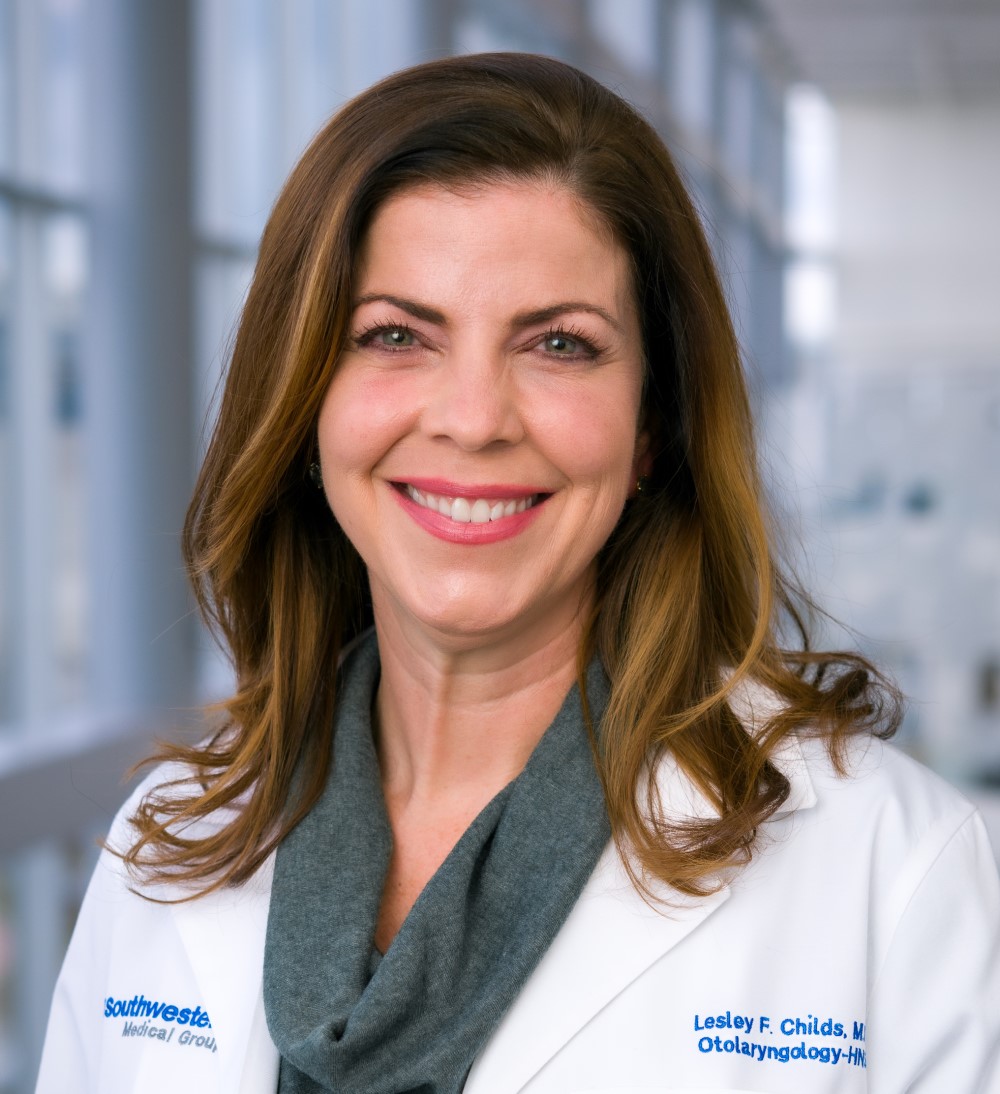 Lesley Childs

, M.D.
Associate Professor
School Medical School
Department Otolaryngology - Head & Neck Surgery
Biography

Laryngology, Neurolaryngology and Professional Voice

Lesley French Childs, MD serves as Assistant Professor of Otolaryngology-Head and Neck Surgery and a Laryngologist in the Clinical Center for Voice Care. She grew up in Austin, Texas and received her undergraduate degree from Yale University. Dr. Childs completed medical school and her residency training at Vanderbilt University in Nashville. She finished a fellowship in Laryngology and Neurolaryngology at Columbia and Cornell Universities in New York City. A classically trained soprano, Dr. Childs has experience singing in various professional chamber ensembles as well as recording for Walt Disney Records.
Education

Undergraduate School

Yale University (2000)

Medical School

Vanderbilt University Medical Center (2005)

Residency

Vanderbilt University Medical Center (2010), Otolaryngology

Fellowship

The New York Center for Voice & Swallow Disorders (2011), Laryngology
Publications

Featured Publications

The natural history of recoverable vocal fold paralysis: Implications for kinetics of reinnervation.

Mau T, Pan HM, Childs LF Laryngoscope 2017 Jun

The initial evaluation and management of a professional voice user with new voice complaints.

Childs LF, Hamilton AL. Current Otorhinolaryngology Reports 2016 183 4
Watts CR, Hamilton A, Toles L, Childs L, Mau T Laryngoscope 2015 Jun 125 6 1420-5
Watts CR, Diviney SS, Hamilton A, Toles L, Childs L, Mau T J Voice 2014 Oct

Relationship between patient-perceived vocal handicap and clinician-rated level of vocal dysfunction.

Childs LF, Bielinski C, Toles L, Hamilton A, Deane J, Mau T Laryngoscope 2014 Aug
Childs LF, Rickert S, Wengerman OC, Lebovics R, Blitzer A J Voice 2012 Sep 26 5 587-9
Rickert SM, Childs LF, Carey BT, Murry T, Sulica L Laryngoscope 2012 Jan 122 1 158-61

Patient perceptions of factors leading to spasmodic dysphonia: a combined clinical experience of 350 patients.

Childs L, Rickert S, Murry T, Blitzer A, Sulica L Laryngoscope 2011 Oct 121 10 2195-8
Childs LF, Goudy SL International Journal of Pediatric Otorhinolaryngology Extra 2010 5 126-128
Ge PJ, French LC, Ohno T, Zealear DL, Rousseau B Ann. Otol. Rhinol. Laryngol. 2009 Jan 118 1 51-5
Books

Featured Books

Spasmodic Dysphonia. In Otolaryngology Clinical Case Studies: Oral Board Exam Review

Childs LF, Mau T (In press). Ohio, Anadem Publishing, Inc.

Medical Management of Voice Disorders. In Encyclopedia of Communication Sciences and Disorders

Childs LF (In press). CA, Sage

Vocal Fold Scar. In Laryngology: A case-based approach

Childs LF, Mau T (In press). CA, Plural Publishing

Trigeminal Neuralgia. In Botulinum Neurotoxin Management of Head and Neck Disorders

Blitzer A, Childs LF, Alexander R (2012). NY, Thieme Publishers

Rhinitis. In Botulinum Neurotoxin Management of Head and Neck Disorders

Blitzer A, Guss J, Childs LF (2012). NY, Thieme Publishers

Movement Disorder Emergencies of the Upper Aerodigestive Tract. In Movement Disorder Emergencies

Childs L., Rickert S., Bentsianov B., Chitkara A., Cultrara A., Blitzer A. (2013). Totowa, NJ, Humana Press

Transcricothyroid Membrane Vocal Fold Injection. In Laryngeal Dissection and Surgery Guide

Rickert S, Childs L, Blitzer A (2013). NY, Thieme Publishers

Endoscopic OR-Based Injection Laryngoplasty. In Laryngeal Dissection and Surgery Guide

Childs LF, Rickert S, Blitzer A (2013). NY, Thieme Publishers

Brothers, Sing On! Conducting the Tenor-Bass Choir

Childs LF (contributing author) (2014). Wisconsin, Hal Leonard Corporation

Contributing author. In Essays On Singing

Childs LF (In Press). Ohio, Inside View Press

Hemifacial Spasm and Facial Synkinesis. In Botulinum Neurotoxin Management of Head and Neck Disorders

Childs LF, Novakovic D, Gibbs S (2012). NY, Thieme Publishers

Vocal Fold Lesion. In Otolaryngology Clinical Case Studies: Oral Board Exam Review

Mau T, Childs LF (In press). Ohio, Anadem Publishing, Inc.

Correction of Facial Asymmetry. In Botulinum Toxins: Cosmetic and Clinical Applications

Rickert SM, Childs LF, Blitzer A (2017). UK, Oxford
Professional Associations/Affiliations

American Academy of Otolaryngology - Head & Neck Surgery (2005)
American Broncho-Esophagological Association (ABEA), active member (2015)
American Choral Directors Association (2012)
American Laryngological Association, post-graduate member (2011)
Dallas Academy of Otolaryngology (2011)
Dallas County Medical Society (2011)
North Texas Voice Foundation (2011)
Pan-American Vocology Association, voting member (2015)
Society of University Otolaryngologists (2016)
Texas Association of Otolaryngology (2011)
Texas Medical Association (2011)
Texas Music Educators Association (2015)