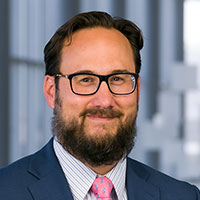 Reed Robinson

, Ph.D.
Associate Professor
School Medical School
Department Psychiatry
Biography

Reed Robinson, Ph.D., ABPP, is an Associate Professor in the Department of Psychiatry at UT Southwestern Medical Center, the Director of Psychological Services for the Division of Psychology, and the Clinical Director of the UT Southwestern Outpatient Psychiatry Clinic. In addition to his administrative work, he has a robust practice as an outpatient psychotherapist. Dr. Robinson specializes in the use of time-limited, change-oriented cognitive behavioral treatments for anxiety and depression. He also has extensive expertise in the use of exposure for the treatment of anxiety disorders and is a certified provider for Prolonged Exposure Therapy for Post-Traumatic Stress Disorder (PTSD).

He is passionate about helping people overcome their illnesses and circumstances and gain as much control and independence as possible in their lives. He believes all therapists should be actively engaged in the process of helping their patients, working to empower them with skills and confidence so they can navigate what life throws at them.

Dr. Robinson's professional and clinical interests include designing and evaluating treatment programs that synthesize and build on established evidence-based treatments to help people with conditions such as treatment-resistant depression. He is similarly interested in developing better mechanisms to utilize measurement in care delivery to improve satisfaction and outcomes.

As an educator, Dr. Robinson is deeply involved in the cognitive behavior therapy training of psychiatry residents. He also teaches classes in the Psychology Graduate Program on Evidence-Based Treatments (Prolonged Exposure and Seeking Safety) and provides lectures on topics including PTSD diagnosis and malingering.

In addition to his clinical and leadership work at the University, Dr. Robinson provides expert witness consultation in the area of PTSD and trauma impact. He also provides consultative services to governmental and business enterprises on operational issues, employee wellness enhancement, and improving organizational culture.

Dr. Robinson earned his doctorate in counseling psychology at Iowa State University. He completed his internship in clinical psychology at the VA North Texas Health Care System, where he later served as the Clinical Director of the PTSD clinic and Assistant Chief of Psychology before coming to UTSW on a full-time basis. Licensed by the Texas State Board of Examiners of Psychology and a Diplomate of the American Board of Professional Psychologists, he was appointed to the UT Southwestern faculty in 2010. He is a member of the American Psychological Association.
Education

Internship

VA North Texas Health Care System (2007), Psychology

Other Post Graduate Training

Iowa State University (2007)

Graduate School

Iowa State University (2007), Psychology