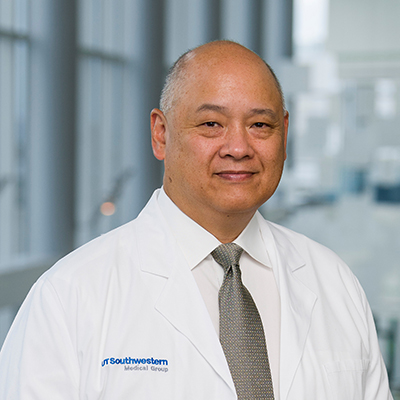 Stephen Luk

, M.D.
Professor
School Medical School
Department Surgery
Biography

Stephen S. Luk, M.D., specializes in acute care surgery, trauma, surgical critical care and wound management.

Dr. Luk earned his medical degree at the Texas A&M College of Medicine. He completed an internship in general surgery at Baylor Scott and White Memorial Hospital in Temple, Texas, and a residency in general surgery at Polyclinic Medical Center in Harrisburg, Penn., followed by an integrated surgery residency at the University of Connecticut. He then received advanced training in trauma surgery and surgical critical care through separate fellowships at Hartford Hospital in Connecticut.

Board certified in general surgery and surgery critical care, he joined the UT Southwestern faculty in 2009. In addition to his teaching duties, he is the Medical Director of the UTSW Willed Body Program. He is also the Medical Director of the Emergency General Surgery Service and the Rees-Jones Trauma Center at Parkland Hospital.

Dr. Luk is a Fellow of the American College of Surgeons (ACS), the American Association for the Surgery of Trauma, the American College of Chest Physicians, and the Eastern Association for the Surgery of Trauma. He currently is the Chair of the ACS North Texas Chapter Committee on Trauma. He is also a site reviewer for the ACS Education Committee and a consultant for the group's Committee on Trauma Surgical Skills. In addition, he is a member of the American Medical Association, the American Trauma Society, and the Pan-American Trauma Society, among many others.

Dr. Luk has delivered scores of presentations, published a variety of academic articles, and was co-editor of the book Advanced Trauma Operative Management: Surgical Strategies for Penetrating Trauma. He has traveled nationally and internationally, delivering talks on acute care surgery and teaching operative techniques in penetrating trauma. He has also developed or co-developed courses in Advanced Trauma Operative Management (ATOM), Advanced Surgical Skills for Exposure in Trauma (ASSET), and Disaster Management and Emergency Preparedness (DMEP).

In 2009, he earned the Hartford Hospital Medical Staff Humanitarian Award. The following year, he received the University of Texas Southwestern Medical Center Outstanding Achievement in Student Teaching Award.
Education

Medical School

Texas A&M Health Science Center College of Medicine (1987)

Internship

Scott and White Memorial Hospital (1988), General Surgery

Residency

Polyclinic Medcenter of Harrisburg (1994), General Surgery

Fellowship

Hartford Hospital (1997), Trauma Surgery

Residency

University of Connecticut School of Medicine (1999), General Surgery

Fellowship

University of Connecticut School of Medicine (2000), Surgical Critical Care
Publications

Featured Publications

Advanced Trauma Operative Management Course: Participant Survey.

10. Lenworth J, Karyl B, Luk S, Hull S World Journal of Surgery 2010 34 164-168

The Advanced Trauma Operative Management Course in a Canadian Residency Program

Ali J, Ahmed N, Jacobs L, Luk S Canadian Journal of Surgery June 2008 51(3)
Honors & Awards

Hartford Hospital Medical Staff Humanitarian Award
(2009)
Physician Recognition Award with Commendations
(2004)
Top Surgeons in America
(2004)
Baylor University Medical Center, Five Star Spirit Award
(2001)
Professional Associations/Affiliations

American Association for Surgery of Trauma
American College of Physician Executives
American College of Surgeons
American Medical Association
Eastern Association for the Surgery of Trauma