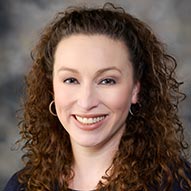 Jamie Becker

, Ph.D.
Associate Professor
School Medical School
Department Psychiatry
Graduate Programs Clinical Psychology
Biography

At Children's Medical Center Dallas, Dr. Becker (née Grollman) provides consultation and liaison services to families receiving care in the Cystic Fibrosis Care and Teaching Center. She is board certified in clinical child and adolescent psychology and provides a full range of psychological services to families from diagnosis through adulthood. Services include both inpatient and outpatient diagnostic assessment and intervention with the following:

Adherence to medical/treatment regimens
Adjustment to illness
Behavioral or mood issues
End-of-life issues
Family stress
Health promotion
Mental health and wellness
Transition to adult health care
Treatment-related distress and fatigue
Pain and anxiety management
Parenting for children with chronic illness

Dr. Becker is also trained in general child clinical issues (such as behavior concerns, anxiety, and depression), as well as in adult health psychology. She has a particular interest in pediatric palliative care and end-of-life issues. She also provides services for families in the pulmonary and allergy/immunology clinics on a limited basis.
Education

Undergraduate

George Washington University (1998), Psychology

Graduate School

Franklin University (2002), Psychology

Graduate School

Franklin University (2005), Psychology
Research Interest

Chronic medical Illness
Cystic Fibrosis
Pediatric palliative Care
Transition from pediatric to adult medical care
Publications

Featured Publications

Gilmer MJ, Foster TL, Vannatta K, Barrera M, Davies B, Dietrich MS, Fairclough DL, Grollman J, Gerhardt CA, J Pain Symptom Manage 2012 Oct 44 4 572-82
Gerhardt CA, Grollman JA, Baughcum AE, Young-Saleme T, Stefanik R, Klopfenstein KJ J Palliat Med 2009 Apr 12 4 323-8
Vannatta K, Grollman JA, Noll RB, Gerhardt CA Psychooncology 2008 Mar 17 3 252-9
Professional Associations/Affiliations

American Psychological Association (1998)
Society for Pediatric Psychology (2009)
Texas Psychological Association (2019)